Elisa Dekaney, professor of music education, will be named a 2020-2023 Laura J. and L. Douglas Meredith Professor for Teaching Excellence, and Beth Myers, assistant professor of inclusive education, will receive a 2021-2022 Meredith Teaching Recognition Award for Early Performance. The Meredith Professor awards will be given as part of the One University Awards ceremony on Friday, May 7 at 4 p.m. ET.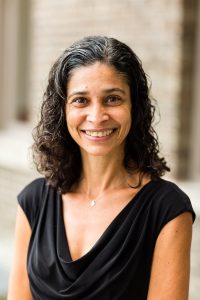 Elisa Dekaney is a professor of music education (a dual appointment with College of Visual and Performing Arts' Setnor School of Music) and the associate dean for research, graduate studies and internationalization within VPA. From 2014-2020 she was a core faculty member for the Renée Crown Honors Program.
Along with her husband Joshua Dekaney, Elisa Dekaney has been the founder and director of Samba Laranja: the Syracuse University Brazilian Ensemble since 2001. Under their direction, Samba Laranja performs regularly for k-12 schools across Central New York and for events in the community and on campus. She has conducted many Syracuse University choirs including the Oratorio Society, Concert Choir, and Women's Choir.
"Elisa has long been recognized as an excellent teacher in the School of Education and the College of Visual and Performing Arts," says Joanna Masingila, dean of the School of Education. "She shares her love of and passion for music, along with her engaging pedagogy, with her students and with local, state, national and international communities who become much richer because of her wealth of knowledge and skills. Elisa is a treasure, and we are fortunate to have her as a colleague."
Dekaney was introduced to the Meredith Professorship program early in her time at Syracuse by School of Education professor emeritus Jerry Mager. "He invited me to join him at several Meredith events in which outstanding and innovative projects around learning and teaching were the focus. I recognized early on that excellent teaching was meaningfully rewarded at Syracuse University."
"I believe in student-centered classrooms where students bring experiences and knowledge that contribute to the overall growth of our learning community," says Dekaney of her teaching philosophy. She sees all musical expression as intrinsically valuable, and her classes incorporate a variety of musical forms, periods, and locales. This encourages not only deeper student understanding, but more interaction and sharing of their own experiences and backgrounds. "In the end, learning is a reciprocal process."
Meredith Professorships recognize and reward outstanding teaching at Syracuse University, and provide a supplementary salary award and additional funding for professional development. Meredith Professors are enrolled for life in the Meredith Symposium to encourage lifelong discussion of teaching and learning.
Beth Myers is the Lawrence B. Taishoff Assistant Professor of Inclusive Education in the department of teaching and leadership. She has been teaching in the inclusive elementary and special education undergraduate program since 2014. Myers also serves as the executive director of the Taishoff Center for Inclusive Higher Education where she oversees InclusiveU, a federally recognized model program for college students with intellectual and developmental disabilities. Previously, she taught in the Lower Merion School District in Pennsylvania, where she helped to create a best-practice inclusive program.
Like Dekaney, Myers sees teaching and learning as a collective act that can benefit both student and teacher. "Together with my students I aim to create a collaborative community in which we learn with and through one another."
Myers brings her experience in public schools and community settings to her teaching. She says it allows her to teach her students about the educational system, while allowing them space to question it. "I am able to teach students how to work within the system to improve the system."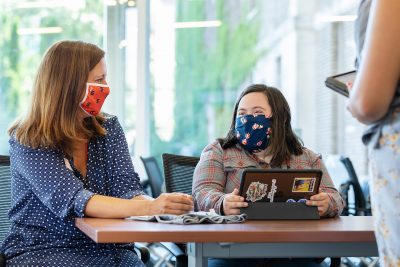 Myers' expertise in adaptive instruction has benefitted her classes during the pandemic, when she had to shift many of her courses online. Even in asynchronous courses where students did not meet together, she kept engagement and participation high by including multiple methods of interaction and reflection including feedback modules, critical writing, videos, and mini-projects.
"Beth educates not only her students but also the University, New York State elected officials, and professional colleagues across the country on best practices in inclusive education through her teaching and the InclusiveU program," says Dean Masingila. "I am pleased that Beth is being recognized for her outstanding and engaging teaching."
The Meredith Teaching Recognition Awards recognize excellence in teaching in non-tenured faculty and encourage a culture of collegial mentoring among faculty members. Awardees receive additional funding for professional development.