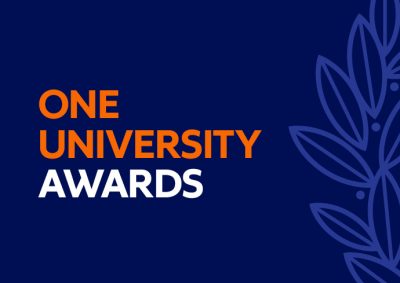 The School of Education was well represented at the 2021 Syracuse University One University Awards on May 7, 2021. This daylong celebration of excellence by members of the Syracuse University community in academics, scholarship, creative work and dedicated service. The awards are available to watch online.
Don McPherson '87 received the William Pearson Tolley Medal for Adult Education and Lifelong Learning.
Elisa Dekaney, professor of music education, was named a 2020-2023 Laura J. and L. Douglas Meredith Professor for Teaching Excellence.
Beth Myers, assistant professor of inclusive education, received a 2021-2022 Meredith Teaching Recognition Award for Early Performance.
Brenna Hart and Lily Wolfer, both inclusive elementary and special education majors, were announced as School of Education Commencement Marshals.
Paula Possenti-Perez, doctoral student in higher education and director of the Center for Disability Resources, was awarded the Diversity and Inclusion award.
Rachel Brown, associate professor of reading and language arts; Gail Ensher, professor of teaching and leadership; and Joseph Shedd, associate professor of teaching and leadership, were awarded Emeriti Status.
Years of Service milestones were recognized, including Paula Maxwell, Leonese Nelson, and Jeanne Schmidt (20 years); Angela Flanagan (25 years); and Michelle Mondo (30 years).
Also recognized were previously announced 2021 Syracuse University Scholars (Julie Coggiola and Lily Wolfer) and 2020-2021 Remembrance Scholars (Andrew Benbenek, Justine Hastings, Victoria Munley, and Gabrielle Phillips).
Earlier in the day, the One University Assessment Celebration included Outstanding Assessment Awards for the Educational Leadership C.A.S. (awarded to Leela George, assistant teaching professor) and the Center for Disability Resources (awarded to Paula Possenti-Perez, higher education doctoral student in the School of Education).