InclusiveU, a program that helps students with intellectual and developmental disabilities attend Syracuse University, will receive $100,000 in the 2021-2022 New York State budget. Earlier this month, State Senator John Mannion visited the School of Education's Center on Disability and Inclusion (CDI), which houses the Taishoff Center for Inclusive Higher Education and InclusiveU, and congratulated them on the restoration of funding.
At the visit, School of Education Dean Joanna Masingila; CDI Director and Associate Professor Christine Ashby; and CDI Assistant Director and Lawrence B. Taishoff Professor of Inclusive Education Beth Myers spoke with Senator Mannion about the systemic challenges that people with intellectual disability face throughout their lifetime, from early childhood through adulthood.
"The new Center on Disability and Inclusion is uniquely positioned to build these types of collaborative relationships with our representatives," says Masingila. "With the deep roots of the existing centers, including the Center on Human Policy, we have the resources and expertise to drive important conversations around quality of life."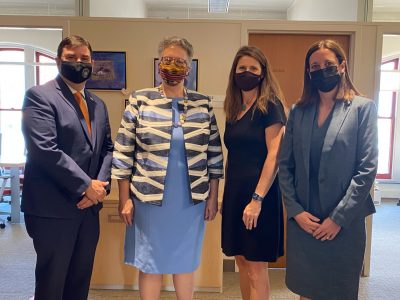 Professor Christine Ashby agrees. "Funding and legislation at our local, state and national levels directly impact the lives of the disability community. It could mean the addition of support services. It could mean we can accept more students into InclusiveU or expand our inclusive education program. It could mean an additional school district receives access to trainings from our Regional Partnership Center."
The visit concluded with a networking session with Mannion and a group of InclusiveU students, where the senator chatted about his lifelong love of the Syracuse Orange and his background in education. Students shared stories of their internship sites on campus, art-work and favorite classes.
"InclusiveU had fourteen students in 2015. This fall we are expecting over one hundred," says Myers. "We are so grateful for funding from the state, which helps us increase our support services to ensure our students have access to all of the opportunities that campus has to offer during their time at Syracuse."