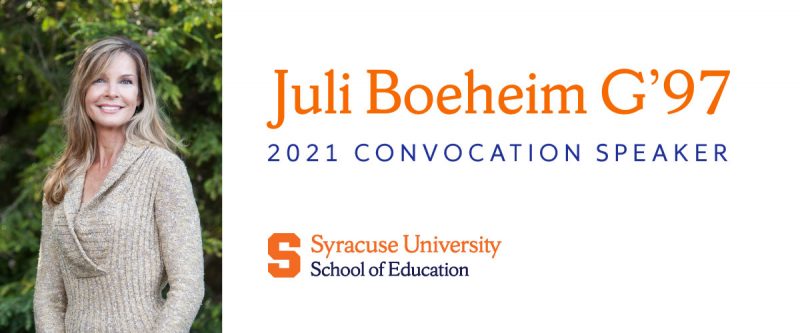 Juli Boeheim G'97 will deliver the convocation address to the 2021 graduates of the School of Education. The ceremony will be streamed virtually for graduates, families and friends over Syracuse University Commencement Weekend, May 22-23.
Boeheim earned a master's degree in infants and young children with special needs from the School of Education in 1997. She is deeply involved in the Syracuse community, serving on the Board of Visitors for the School of Education and the Upstate Hospital Foundation Board. Boeheim previously served on the boards of the ARC of Onondaga and the Syracuse Community Health Center and has been active with the Rescue Mission and the Make-A-Wish Foundation.
"I'm excited that Juli will be our convocation speaker this year," says School of Education Dean Joanna Masingila. "I've witnessed firsthand the wonderful work that Juli and Jim have done in supporting projects within the Syracuse City School District with tablets and other resources, and the Syracuse community through the Courts 4 Kids, the Boys and Girls Club, Baltimore Woods Nature Center, Camp Good Days and Special Times and so many more. Juli's work in our community is a great example of educational leadership in the community."
Boeheim has brought a background of "Southern hospitality" to Central New York. Born in Miami, Florida, and raised in Kentucky, she received her undergraduate degree in merchandising, apparel and textiles with an emphasis in marketing from the University of Kentucky. She was introduced to Syracuse University men's basketball coach Jim Boeheim in 1994 at a Kentucky Derby party. The two were married in 1997.
The Jim and Juli Boeheim Foundation, founded in 2009, strives to enrich the lives of kids in need within the Central New York community, as well as provide support for eliminating cancer through research and advocacy. The foundation has provided support to the School of Education's Fit Families program, which encouraged physical activity for children with autism and visual impairments and their families.
Remarks will also be given by Dean Masingila; Erin Hernandez '21, a graduate of the inclusive elementary and special education undergraduate program; and Joash Geteregechi G'21, a graduate of the mathematics education doctoral program. Visit soe.syr.edu for more information on the School of Education convocation.