Recordings of all Policed Bodies sessions are now available online.
---
The Lender Center for Social Justice, along with the Center on Disability and Inclusion and the Landscape of Urban Education Lecture Series, is bringing the community together for a broad-ranging discussion on Policed Bodies: A Community Conversation on Race, Disability and Justice. The event is free and open to the public and will be held in a virtual format on Friday, April 16, and Saturday, April 17. The complete program, including speakers and panelists, is available online.
Participants are asked to register online and all community members are welcome. Communication Access Realtime Translation (CART) live captioning and American Sign Language (ASL) interpretation will be provided. For additional accommodations or assistance, email suschoolofed@syr.edu.
"Conversations about race, disability and justice in the policing of communities and schools are happening across the country," says Marcelle Haddix, dean's professor of reading and language arts in the School of Education and co-director of the Lender Center. "Consistent with the Lender Center's mission, the intention is to create a space where national experts, community activists and local stakeholders have the opportunity for critical dialogue on citizen-led reform of policing and public safety."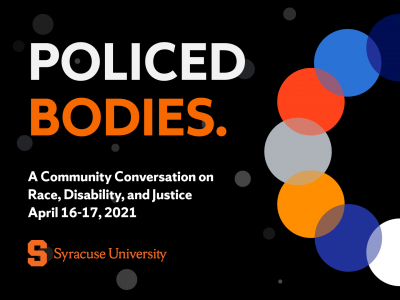 The keynote address will be given by award-winning author and social justice scholar Monique W. Morris, Ed.D., director of the 2019 documentary film "PUSHOUT: The Criminalization of Black Girls in Schools." The author of four books and dozens of articles exploring race, gender, justice and education, Morris is founder of the National Black Women's Justice Initiative, an organization that works to interrupt school-to-confinement pathways for girls, reduce barriers to employment for formerly incarcerated women, and increase the capacity of organizations working to reduce sexual assault and domestic violence in African American communities.
Participants can hear from experts and activists and engage in dialogue during three panel discussions:  Policing and Reform Initiatives in Black and Brown Communities, Policing Bodies in Schools, and Community Engagement and Action. The Saturday panel will be followed by breakout room conversations where community members can interact with panelists and participants, continuing the conversation regarding the future of community policing.
"This is a crucial opportunity for the Lender Center and our partners to facilitate conversation about a timely and pressing topic that is at the forefront of our nation's public dialogue," says Kendall Phillips, professor of communication and rhetorical studies in the College of Visual and Performing Arts and co-director of the Lender Center.
"We are hoping for strong participation from Syracuse University students, faculty and staff as well as the broader Syracuse community," Phillips says. We are grateful that this virtual format allows us to bring the national experts together with our own community leaders to have meaningful conversations about the future of community policing."