Ella Simkins '20, G'21 had big plans for the 2020 Syracuse University women's lacrosse season. A standout defender, in her junior year she had started all 21 games, recorded career highs in caused turnovers and draw controls, and ranked third on the team in caused turnovers, all during a 16-5 season for the Orange.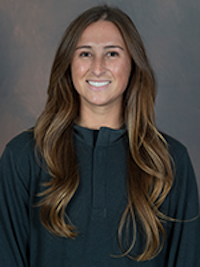 However, the coronavirus pandemic cancelled Simkins' senior season after just eight games, the call coming while the Orange were having a pre-game meal before its March 12 match-up against the Cavaliers in Charlottesville, VA.
After this disappointment, Simkins, like other Orange student-athletes, was offered a fifth year of eligibility for 2020-2021. Having already received her undergraduate degree, in order to return she needed to join a graduate program. The path she chose—through the School of Education's Certificate of Advanced Study in Intercollegiate Athletic Advising and Support (CAS in IAAS), which was re-imagined in 2021 and became a popular option for fifth-year athletes—has set Simkins on her coaching career path.
"Through our CAS courses, and especially in mine, I saw Ella as this budding gem who I believed would be an incredible coach," says Professor Cathy Engstrom, Chair of the Department of Higher Education. "Ella thrived in classes and also on the lacrosse field, becoming a 2021 All-American. In all my years of teaching and amazing student growth, her transformation was one of the most rewarding."
"What made this program so good was the fact that not just student-athletes took it, and that made us athletes think about different perspectives. It broadened my horizons."
Now an assistant coach for the Army West Point Black Knights, as well as a member of the Athletes Unlimited Pro Lacrosse League, we caught up with Simkins to learn about her experience in the CAS in IAAS program and how it has helped her to navigate her first year at Army Lax.
How did you decide to take the CAS in Intercollegiate Athletic Advising and Support?
COVID happened in my senior year, in the middle of the season. We all had big plans and big goals for the season, but it was cut short, so at first I was just trying to navigate that. I was thinking about taking a master's degree and going into a career in medical sales, so I looked through graduate programs and went to information sessions. When I went to the one that Professor Engstrom was running on the CAS in IAAS, I was super interested, as were other athletes coming back for their fifth year.
The way Professor Engstrom promoted the class made it that much more enticing. She was really supportive through the whole process and provided all the information I needed to make my decision and to find courses that fit with my practice schedule. It all made entering the program that much easier.
Was becoming a coach ever on your radar?
I always thought about coaching, but I wasn't sure if it was exactly what I wanted to do. But I really started to think about it toward the middle of my fifth year because Professor Engstrom and I would have conversations about what's next for me.
We did a lot of reflection in classes, which helped to clear my mind, in a sense of asking whether coaching is something that fits me. A lot of class activities were structured for reflection. Professor Engstrom was super influential in me finding my way, and I know other student-athletes thought the same.
What elements of the CAS program particularly interested you?
A lot of it was extremely interesting because of the way it reflected on the student-athlete experience. But the courses also showed you the other side of college athletics that athletes don't see, the structural side of things, such as getting athletes into college.
What was most interesting were the program proposals that Professor Engstrom asked us to develop, ideas to make the student-athlete experience better. My first project was to create an anonymous feedback initiative for student-athletes. That idea segued into a proposal that I thought was even more productive and helpful for them.
Teammate Vanessa Costantino '20, G'21 and I created "Strength Between Your Ears: A Journal to Train Your Brain Like You Train Your Body." This is a "mindfulness planner" to address student-athletes' mental health. The planner is full of structured questions for reflection, as well as word and number games, coloring pages, and visualization guides—all different activities to help with mindfulness and stress relief.
We created what we thought was a more pleasing and useful planner than traditional ones. The idea grew out of meditation and visualization we did in the lacrosse program, which helped me a lot, as well as mindfulness classes I did as part of my undergraduate communications and rhetorical studies courses.
How has the CAS in IAAS helped you with your coaching at Army?
The CAS definitely has helped me in different ways, especially in reflecting on the administrative side of things in terms of my own student-athlete perspective. The CAS in IAAS is a perfect structural mix of the two sides of college athletics—administration and student experience—that gives you well-thought-out approaches to solving different challenges.
What we did in the program has also helped me navigate issues with individual players. At the beginning of this year, I reached out to Professor Engstrom asking for different activities to bring together the team. She always had the best activities for doing that, and she's great to reach out to. At the beginning of her classes, we'd always had a period of independent work based on our readings. Her questions were perfect, not like doing homework at all, and they started really productive conversations in class.
What advice would you have for students thinking of taking the CAS in IAAS as a way into coaching?
What made this program so good was the fact that not just student-athletes took it, and that made us athletes think about different perspectives. It broadened my horizons. So, whether you are a student-athlete or not, the impact of the program is bigger than what you might expect. If you are a student-athlete, you will learn a lot about the experiences you had, and you will build on them—into something bigger.
Read more online about the Certificate of Advanced Study in Intercollegiate Athletic Advising and Support or contact Professor Cathy Engstrom at cmengstr@syr.edu or 315.443.4763.