Derron Hilts, a doctoral candidate in the School of Education's Department of Counseling and Human Services, has been selected as the 2022-2023 Leadership Intern for Chi Sigma Iota (CSI), an international association of professional counselors with more than 400 chapters and 130,000 members worldwide.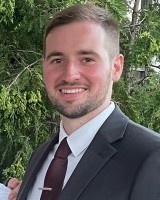 The CSI Leadership Fellowship and Internship program offers Chi Sigma Iota members in the early years of their professional careers an opportunity to broaden their awareness and leadership potential in the profession. CSI created the program to assist future leaders in developing competencies to advance the profession and to cultivate and support leaders ready for the challenges of a changing, diversified profession and multicultural society.
A clinical supervisor, graduate assistant, and course instructor for the Department of Counseling and Human Services, Hilts is a former professional school counselor for Cattaraugus-Allegany BOCES and Watkins Glen Central School District in New York State. He holds a master's degree in Counselor Education/School Counseling and Guidance Services from Duquesne University (2017) and a bachelor's degree in Psychology from SUNY-Fredonia (2015).