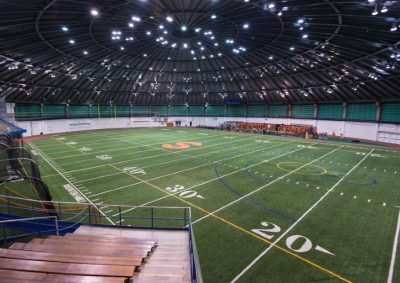 The Department of Higher Education in the School of Education is expanding their curriculum offerings to prepare current and future higher education professionals (e.g., advisors, administrators and coaches) to learn how to support and advocate for the success of intercollegiate student-athletes. A certificate of advanced study (CAS) in Intercollegiate Athletic Advising and Support (IAAS) was reimagined and relaunched for a cohort of students beginning in fall 2020 and continues to gain traction.
Previously offered as a dual program with the Falk College of Sport and Human Dynamics, Cathy Engstrom, faculty member in the higher education program, redesigned the program to offer a set of courses, many accessible remotely, that give students a foundation about how colleges and intercollegiate athletics work and the impact of these intersecting, and at times conflicting, systems on student-athletes' identity and college success.
Engstrom says,
"Consistent with SOE's mission, IAAS students are pushed to examine how race, gender, national origin and class shape student-athletes' experiences, and ways in which 'isms' (e.g., racism, sexism, heterosexism) operate. They learn to uncover systemic inequities, tensions and demands many students encounter. In a few courses, they are asked to propose well-researched, feasible programs or policies that promote student-athletes' well-being and position student-athletes to excel in the classroom, on the field and as they transition out of college. The intent is that intercollegiate athletic programs will seriously consider adopting these exemplary proposals."
The relaunch coincided with an unprecedented time in higher education, as spring 2020 student-athletes were granted an additional year of eligibility due to COVID-19 and the resulting halt to many collegiate sports. Students from four different spring sports enrolled in fall 2020 after concluding that this program addressed their academic needs and career goals while fitting into their demanding intercollegiate athletic schedules.
Graduates of this program will be well-positioned to consider positions as academic advisors, intercollegiate athletic coaches or continue their studies with a master's degree in higher education to prepare them in student affairs/higher education administrator roles. In addition, several current master's students in higher education are enrolled in this certificate program concurrently.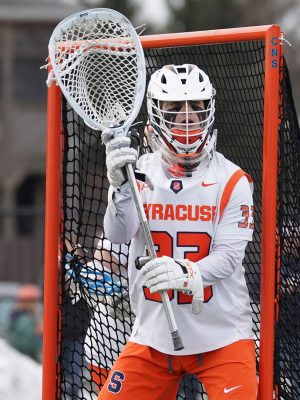 These possibilities attracted lacrosse player Drake Porter '20, who enrolled in the program when the NCAA granted him an additional year of eligibility. Porter says the IAAS program has given him the tools he needs to prepare for a career in coaching after his student-athlete days are over and will offer him a leg up in a competitive job market. He adds that the program was the right support for his professional goals, and the design of the instruction has fit well with his other academic, personal and athletic commitments.
As an undergraduate, his commitment to his sport placed stress on his commitment to his academics, causing friction in his classes. "On group projects, where meeting outside of class was required, my groups would perceive me to be lazy or unwilling to meet because my schedule did not allow me to meet at regular times during the day," Porter says. "Misconceptions like this were damaging, and sometimes my peer evaluations and grades could suffer as a result." He says the barriers to academic participation and inclusion he faced as an undergrad have not been an issue in the IAAS program.
For international student and member of the Syracuse women's rowing team Maddy Horridge '20, the IAAS program provided place and purpose during uncertain times. "I am a student that thrives by being in the classroom. Being home and working constantly on the computer I have struggled to balance a healthy social and work life." She says the peer network of student-athletes and the IAAS cohort provided support. "Some new challenges that student-athletes faced were testing more frequently compared to other peers, working and being very flexible with workouts while balancing classes, and trying to keep healthy."
In his role as assistant athletic director, Morey Mossovitz '08, G'10, has seen firsthand the unique experiences of student-athletes, and that has informed his practice as an adjunct professor in the IAAS program.
Mossovitz says the program stands out in its preparation of students to work at the crossroads of athletics and higher education. "Professionals that work with student-athletes require insight into many facets of higher education, particularly the structure of athletic departments, NCAA rules and particular challenges that face student-athletes. Currently, there are not many programs that provide a focused curriculum for student-athlete support fields."
Horridge says, "There were a handful of student-athletes in [Prof. Mossovitz's] class, but the majority were non-student-athletes. I believe the discussions opened the eyes of students about what student-athletes go through."
Assistant Provost Tommy Powell agrees that the student-athlete culture is complex, and that the IAAS program is responding to it and preparing for its future in conscientious ways. "The program has been an incredible help in providing a voice and expertise on issues impacting student-athletes and athletics in general. It emphasizes ethics and integrity within the professional world and promotes the highest standards of diversity, equity and inclusion as critical elements of student-athlete success," he says. "Additionally, the focus on scholarly research to help educate, prepare and advocate for student-athletes through transition, retention, graduation and beyond is needed in this field to support policy change within athletics and the academy."
As the pandemic continues and the dynamics of higher education are changing, the importance of programs to prepare students for student support roles in intercollegiate athletics will increase and be more complex. Mossovitz says other shifts are on the horizon for college athletics, particularly around branding, image and concerns for social justice. "Professionals working with college athletes will need to understand these topics and develop the skills to help support the students they work with, so they can be leaders who develop the critical evaluation and thinking skills to advance and support the institutions they work for."
The CAS program in Intercollegiate Athletic Advising and Support is currently enrolling students for fall 2021. The School of Education is offering 50 percent tuition scholarships for eligible students. For more information, contact program coordinator Cathy Engstrom.