Delaware Primary School Principal Moshiena Faircloth is exactly the type of student Syracuse University's Educational Leadership executive doctorate wants to recruit, says program coordinator Professor George Theoharis: "When this program was redesigned five years ago, the aim was to attract strong and talented Syracuse and Central New York school leaders who are committed to the hard work of equity."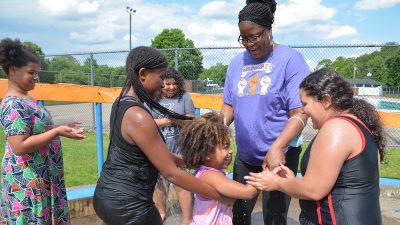 This doctorate in education, or Ed.D., program prepares students for academic and administrative roles in K-12 and higher education and encourages them to develop new research to improve practices in the field.
Faircloth's research focuses on Black single mothers and their experiences with and perspectives on schools' parental involvement plans. This is an area of research that has gone largely ignored. "Moshiena's work is filling a critical void," says Theoharis, noting almost six million children in the US live in families with a Black single mother. "Gaining a better understanding on these mothers' perspectives is an important step to strengthening education for Black children."
Faircloth recently took the time to go in-depth on her fascinating career journey, her educational and administrative philosophies, her doctoral research, and her work to empower Black girls and single parents to help close academic gaps …
Q: What inspired you to become an educator?
A: My mother really molded me to be who I am today. She always had little groups going, and they always needed someone to babysit while they held meetings. I was that lucky person. I remember playing school with the kids.
My mom went on to be a lobbyist for rural migrant rights in New York state. One initiative she started was a residential camp for farmworker families. All the children would come for seven days each summer. I worked as a counselor from age 14 to 18. Then I became program director. I saw how seriously the migrant children took education. Seeing that fired me up and built a foundation for me to become an educator.
"What really pushed me first was the lack of literature I've been able to find around single mothers' and minority parents' involvement perceptions … I'm hoping to gain enough information to work with districts and offer my knowledge and help around creating adjusted and varied plans."
Q: What is your favorite part about being an administrator?
A: I love seeing the families. I love being outside each morning to greet students. I want to make sure they are all well and happy. If someone is not, then I can pinpoint that first thing in the morning. I make sure I am present in the afternoon, too. I do not want parents to worry about finding me if they have questions.
Q: Can you tell me about the Building HER: Honoring Empowering Relationships program?
A: Oh, that's my baby. When I started it, I was a middle school vice principal. I had a lot of young ladies posing a variety of questions to me because nobody had ever taken the time to answer them. The school already had a group for boys where they were having deep conversations. I wanted to do the same with the girls.
We want girls to understand the importance of being themselves and to understand self-care, financial security, and sexual health. We complete community projects once a month. Recently, we made blessing bags for Vera House, a nonprofit working to end domestic and sexual violence, and we are now collecting diapers for the CNY Diaper Bank. I want the girls to understand we are all part of the community and should be there to help.
I've found our girls don't have many people to network with, and they definitely don't have a lot of capital resources. This can stagnate our kids and keep them in the inner city where they can feel like they can't get out. I want them to know the sky's the limit.
Q: What is the focus of your doctorate degree?
A: Single mothers' perception on the parent involvement plans of urban school districts. Typically, districts' plans are rarely made in conjunction with parents. Due to the number of hours our families work, take care of homes, and raise their children, sometimes it is hard for districts and families to collaborate. Plans state what we want you to do as a parent, but districts don't always have a large number of families that get asked what their needs are.
When you are dealing with single mothers of color, we know they're juggling a lot—jobs, family, the household, and their kids. That is no easy task. On top of this, the school is asking them to make sure homework is done and that education is the priority. When you live in an urban area, education cannot always be a priority. Instead, priorities might be, "I want my child to survive passed an early age; I want my African American son to make it home safely."
What really pushed me first was the lack of literature I've been able to find around single mothers' and minority parents' involvement perceptions and differentiated plans to meet the needs of these family groups. Secondly, I'm hoping to gain enough information to work with districts and offer my knowledge and help around creating adjusted and varied plans.
Knowing that single mothers of color have a wide range of immediate priorities, it is very important that we look closely and are able to differentiate to meet their needs. It is not always going to be an open house where all those families are going to be able to attend. Maybe a solution can be to hold an open house that is offered virtually or maybe we have to plan for a home visit so we can still garner that home/school connection.
My first step has been to find research that supports why it's important for educators to differentiate for families so we can meet their needs and start to close academic gaps. To add to this conversation, I plan to hold a focus group with families, so they can share their triggers when working with schools, such as, "I don't want to come in to school because it's not a welcoming environment."
I believe the focus group will be important, because as educators, I think we see from our vantage point but we don't always get the chance to see others' perspectives. This focus group will allow parents to say, "These are the things that I need from the school so I can better help my kid. But I also want you to understand, these are the things that I'm dealing with, things that might prevent me from doing recommendations in the school's plan."
Q: What comes next for Principal Faircloth?
A: In the next five years, I would like to become a superintendent. If not superintendent, I want to work with school districts on improving and/creating their parental involvement plans. I think this is huge and can definitely close many gaps for families and build a more positive culture within schools.
Schools are part of our communities. We need to let the community in and let the community feel safe when they come, not feel judged. I want to bridge that gap and create productive and positive parent/school plans. That would be a dream job.
By Ashley Kang '04, G'11 (a proud alumna of the M.S. in Higher Education program)
Learn more about Syracuse University School of Education's Ed.D. in Educational Leadership program, or contact George Theoharis at gtheohar@syr.edu or 315.443.9080.