School of Education alumni, students, and faculty continue to be leaders in their fields, promoting inclusive practices, mental and physical wellness, and the arts. Three members of the SOE community were recently appointed to new roles.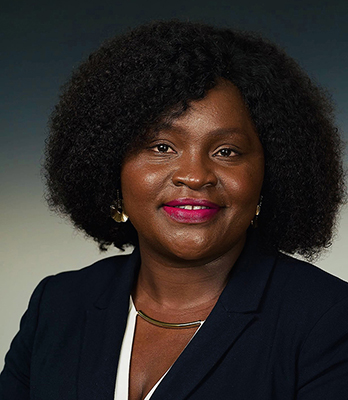 Stella Rwanda G'19 has been named director of the Healthcare Advancement Resource Center (HARC) at Le Moyne College in Syracuse, NY. HARC supports international medical graduates navigate educational and career opportunities in the United States, helping fill the need for more culturally and linguistically diverse healthcare professionals. Rwanda received a doctorate in literacy education at Syracuse University, after receiving degrees in English and English education at Kenyatta University. She has been associate director of HARC for the last year, as well as teaching literacy education and teaching English as a second language at Le Moyne. At Syracuse, she was the 2017 William D. Sheldon Fellow.
Sarah Gentile G'03 G'22 was appointed the new fine arts director of the West Genesee Central School District in Camillus, NY, near Syracuse. Gentile received a master's degree in music education from Syracuse in 2003 and is a current doctoral student in educational leadership. She is "coming home" to West Genesee, as a graduate of the district and the mother of two recent graduates. Gentile was most recently the fine arts supervisor for the Syracuse City School District, where she was also a music teacher.
Michael Norris, assistant professor of physical education, has been appointed to a three-year term on the board of directors of the New York State Association for Health, Physical Education, Recreation, and Dance. NYS AHPERD supports educators, coaches, health workers, and other current and future professional promote health and physical literacy for all. Norris coordinates the health and physical education undergraduate programs, and does research and community work in inclusive physical activity, aquatics, and physical education pedagogy.