The Syracuse University School of Education mourns Gwendolynne Yarger-Kane, Ph.D., a beloved colleague who passed away on Oct. 4, 2022, in Mooresville, NC, at the age of 86.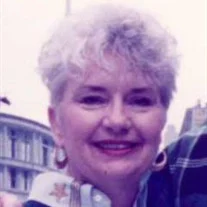 The wife of Eugene T. Kane, Gwen was born on March 1, 1936, and was raised in Pontiac, MI. She was a member of the School of Education faculty for 25 years, teaching undergraduate seminars in the inclusive education program and directing the West Genesee/Syracuse University Teaching Center, as well as creating and sustaining productive relationships between the School and other local partner schools.
Yarger-Kane's obituary notes that she had a passion for animals, reading, traveling, decorating, gardening, and collecting art from all over the world.
In addition to her husband, she is survived by her son Mark Yarger and his wife Roxanne of Ashland, MA; stepdaughter Kelly Johnston and her husband Chris of Chesterfield, VA; stepson Michael Kane and his girlfriend Bonnie Endres of Apex, NC; and several grandchildren.
Remembering their colleague, Program Specialist and Academic Advisor Marie Sarno says, "Gwen contributed much to the field of teacher education and professional development while at Syracuse University. She was classy and caring."
Laura J. and L. Douglas Meredith Emeritus Professor for Teaching Excellence Gerald Mager says, "Gwen was instrumental in shaping School of Education teacher preparation programs in the 70s, 80s, and 90s, particularly as they built in and built upon field experiences. I considered her one of my closest colleagues."