"I have always been drawn to creative problems, yet I have always solved those problems in technical ways. I am very left-brained. But people need to know being left-brained can be just as creative as being right-brained. In fact, if you are forced to pick the perspective of just one side, you lose the overlap between them. That is where all the good things happen."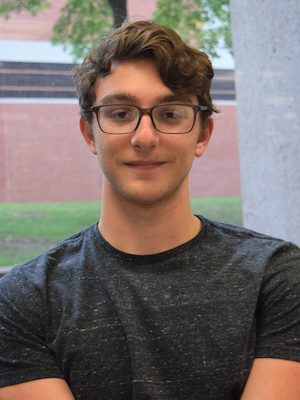 This is the personal philosophy of Domenic Gallo '24, a sophomore in the industrial design program at Syracuse University's College of Visual and Performing Arts (VPA). This semester, Gallo has enjoyed putting his creative problem-solving skills to the test in an inclusive design class offered through Intelligence++, a collaboration among VPA, Blackstone LaunchPad at SU Libraries, and InclusiveU, a program of the School of Education's Lawrence B. Taishoff Center for Inclusive Higher Education. 
The elective—available to both undergraduates and graduates—challenges students to ideate and build solutions for challenges unique to individuals with intellectual disabilities.
Gallo has been working alongside fellow VPA sophomore, Bella Young '24, and his new friend Chase Coleman, an InclusiveU student. "Chase has a form of autism that makes it difficult for him to communicate verbally," Gallo explains. "Typically, individuals who struggle with this use a type of app called an AAC—which stands for Augmentative and Alternative Communication—so that they can talk with people. It is basically a grid of images on a touch screen or keyboard with text editor used by people who have non-verbal autism in order to speak. You string together sentences using the images on screen and then the software speaks it for you."
"Especially with this project I am working on now, I get to talk with expert users and people with disabilities who can tell me directly if what I am doing is working for them. We are designing with them, not just for them, and that feels fulfilling to me."
"But the problem is that most of these systems are antiquated and outdated in terms of current technology," Gallo continues. "Most of them use ClipArt images and interfacing that can feel infantilizing or even demeaning for someone like Chase to use. The other issue is that for someone like me who usually communicates verbally, I have the liberty of being able to use words in a way that expresses my personality. But Chase's interface, on the other hand, is not tailored to his personality or how he speaks. If he wanted to tell a joke for example or use humorous connotation, that is something he cannot really do right now."
So, what should be done about this communications roadblock?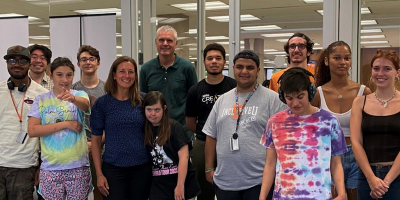 "What we want to do is modernize AAC," says Gallo. "We are trying to do this in two ways. One is by implementing artificial intelligence (AI) technology to create better predictive text pathways that feel more natural to use. The hope is that it would be able to match whatever speech style Chase wants to use and suggest things he might want to say next. The other thing we have been thinking about is creating more dynamic layouts. The AAC grid is very structured right now, basically just a grid of squares. We are seeing if laying it out in different formats would allow for better personalization."
Another aspect of Gallo's product development process is exploring the idea of creating a brand new, keyboard-like interface by utilizing his CAD and 3D printing expertise. "When you are using an AAC on an iPad, you are pressing the touch screen for haptic feedback. You must go through the different categories to select the words you want to use. This works for some people, but what I want to test out is if it might be more beneficial for the disability community to have a dedicated physical interface. I am thinking that it might be less 'busy' than navigating a tablet."
Gallo says that he had taken inspiration from DJ soundboards for his initial design. When asked how large he wants the product to be, Gallo unfolds his arms and estimates the rough dimensions with his hands. "Probably like a foot-long square or 8×8 with 64 buttons total. I want it to be something that is portable enough to fit in a backpack. I designed the physical model using CAD software, and now I am working on an app that can interface directly with the buttons."
"The idea is to have the buttons light up with different options based on which word is being chosen," continues Gallo. "So, if Chase presses the word 'I' on the grid for example, a group of most-likely words or phrases with their associated colors and images will pop up for him to select next. In time, the goal is to have it adapt to his most frequent choices and preferred style of speaking. Think of it like iMessage recommendations, but on an actual keyboard."
In November 2022, Gallo's proposal—"Reimagining AAC," supervised by Professor Donald Carr—received a SOURCE Fellowship from the Syracuse University Office of Research. The award of up to $5,000 will allow Gallo to continue his research.
"What's great about the major is we do a ton of different things," Gallo says. "We cast a wide net." Prior to the inclusive design class, Domenic worked on a couple of different projects, including one with the Smart Visions Systems (SVS) Laboratory at Syracuse University, where he organized brand language and a concept for an occupancy detection software. He was brought on toward the end of the project to help develop an HVAC system which utilized cameras and AI to determine how many people were occupying a given space. Based on how many occupants there were, the system would then adjust the temperature of the room accordingly to conserve energy costs. 
Gallo also held a summer internship at a 3D printing laboratory where he made a print farm and learned about cloud-based rapid prototyping. "I built 3D printers from scratch," he said. "I didn't know much about electrical engineering before then, so half the fun was learning how to wire without blowing myself up."
As a high schooler, Gallo had thought about going into mechanical engineering, but he found that it did not offer the level of creativity he was looking for. "The other thing that I love about industrial design is that some of my classmates are artistic, while others are not as much. But there is an entire spectrum of industrial design projects, and you get to choose where you want to land. Especially with this project I am working on now, I get to talk with expert users and people with disabilities who can tell me directly if what I am doing is working for them. We are designing with them, not just for them, and that feels fulfilling to me. I cannot wait to see how it turns out."
Story by Jack Rose '24, Global Media Fellow