While at Syracuse University, Darius Rose '12 worked as a student manager for the Orange Football team for five seasons. He was responsible for setting up drills and executing daily practice plans, while also assisting in game day and equipment room operations.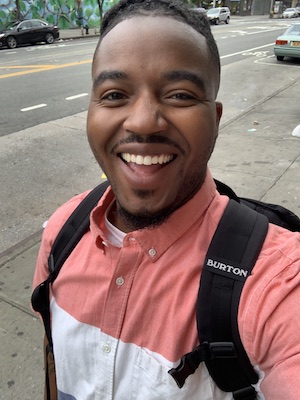 Rose graduated Syracuse in 2012 with a bachelor's degree in Physical Education and a minor in Sport Management. After taking a master's in Athletic Administration from Springfield College in May 2015, Rose served as Director of Football Operations at American International College for two seasons, handling compliance, fundraising, game day operations, and recruiting visits.
After AIC, Rose taught at Harlem 4 Success Academy Elementary School in New York City, before transitioning into educational recruitment, first as a talent specialist for Kokua Education and now as the GO Foundation's Director of Recruitment.
Describe your current roles and its responsibilities.
As Director of Recruitment for the GO Foundation—a not-for-profit charter school organization—I oversee end-to-end recruitment of recent college graduates to tutor and mentor students (in grades 3 through 12) as GO Fellows, in partnership with AmeriCorps.
How did the School of Education prepare you for this role?
Syracuse University School of Education prepared me with a servant leadership mindset, which guided me throughout my career in college athletics and eventually into education. Preparing me to be an effective teacher has allowed me to market and recruit teachers and fellows, as well as explain the hardships and how rewarding this work can be.
What current trends do you see in your specialty and how are you addressing them?
There is a national teacher shortage, a trend that is true for other service opportunities, but especially education. Recent college graduates are being offered more attractive and higher paying jobs which greatly takes away from the pool of people that I can recruit.
To address this shortage, my organization and I are constantly finding ways to tell the story of GO Fellowships and the impact they can have on students. We are constantly finding ways to make our service opportunity more attractive; for example, we provide housing at all of our locations, even in NYC. And we organize several leadership and professional development events for our Fellows so they can transfer the skills and experiences they gain from the Fellowship into their next endeavors.
What academic program stood out for you most as a student at SOE?
Professor Ben Dotger and his EDU 303 Children's Learning in English as a New Language (ENL) Inclusive Classrooms definitely challenged me. He is a professor that I will never forget. In another education class, we were paired with a local high school student with a disability—that also was an experience that stood out.
Make a pitch for SOE—why should a prospective student choose the School of Education?
Knowledge is a major key to success in anything you pursue. The School of Education will challenge you and provide you with experiences that will not only better yourself, they will put you in a position to impact the lives of others.