Multidisciplinary designer and master's degree student Rabia Razzaq has won the 2022 Intelligence++ Showcase Competition, held in the Whitman School of Management on April 26, 2022.
View the Photo Essay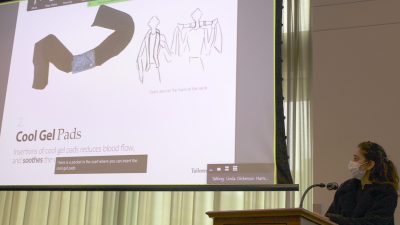 The interdisciplinary competition—which encourages design and business students to imagine and create products, devices, and services for persons with disabilities—is the culmination of a two-semester inclusive entrepreneurship and design course taught by College of Visual and Performing Arts Professor Don Carr.
The inclusive design elective is open to both undergraduate and graduate students across Syracuse University, including students with intellectual disabilities from InclusiveU, a program of the Lawrence B. Taishoff Center for Inclusive Higher Education, part of the School of Education's Center on Disability and Inclusion.
The course and competition are supported by School of Education's Lawrence B. Taishoff Assistant Professor of Inclusive Education and Executive Director of the Taishoff Center Beth Myers and Blackstone LaunchPad at Syracuse Libraries Executive Director and Whitman School of Management Entrepreneurship and Emerging Enterprises (EEE) faculty member Linda Dickerson-Hartsock. Submissions for the showcase competition also came from students in Dickerson-Hartsock's LaunchPad business development course.
Razzaq's winning proposal—Tailored-Relief—is a wearable device for people with anxiety that features cooling pads, fidget devices, and other built-in technologies to help calm the wearer.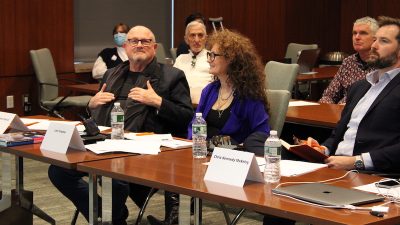 Second place went to Cata Baumgart for Serene Senses, an app that lets users and their friends create custom sound, image, and vibration-based messages for when users feel overwhelmed. Xinyi Wang placed third with Food AI, an interactive stove top to guide cooking, help track recipe steps, give heat warnings, and more.
The 2022 competition judges were:
Doug Cramer '87, Principal of CANY Holdings, LLC; Managing Member of Journey's End Partners; and Managing Principal of Alternative Access Capital.
Lori Jacobs '92, a fine artist, set designer, and industrial/product designer working in the innovative footwear and pet products industries.
Chris Kennedy McKelvy, advisor to Team One Sports, an e-sports company based in Sao Palo, Brazil, and a board member for the Joseph P. Kennedy Jr. Foundation.
Belle Martorano G'19, a change management and leadership consultant, founder of Rilind Consulting, and Blackstone LaunchPad Entrepreneur in Residence.
Gianfranco Zaccai '70, H'09, co-founder of innovative design firm EPAM Continuum and founder of Intelligence ++, the Zaccai Foundation for Augmented Intelligence, which seeks to develop innovations to enable and empower individuals with intellectual disabilities. The program and competition prize money are funded through Zaccai and his foundation.
Other pitches the judges weighed were a device to help correct poor gait, especially in persons with disabilities (Bearett Tarris '21, G'22, Natural Gait); a crowdsourcing platform to help teachers with lesson planning and to combat burnout (Travis Ghirdharie G'22, Many Hands); a module that brings a natural setting indoors to combat stress (Ting Kang '20, G'22, The Relaxation Pod); an app to verify truly inclusive, universally designed environments (Riley Blumenthal '23 and Jessica Mitchell '23, Inclusive Environments); media support for creative storytelling (Jack Rose '24, Blade Point Media); and an app that lets users keep track of tasks (Aidan Mickleburgh '22, G'23, Abridgd).