The two-part Louis Stokes Alliance for Minority Participation (LSAMP) Symposium featured poster presentations by student researchers on April 22 and oral presentations on April 27, 2022. Held in Sims Hall on the Syracuse University campus and supervised by LSAMP Director Tamara Hamilton, this year's research projects covered topics as diverse as biomechanics, organic chemistry, sociobiology, pedology, materials science, and online misinformation.
View the Photo Essay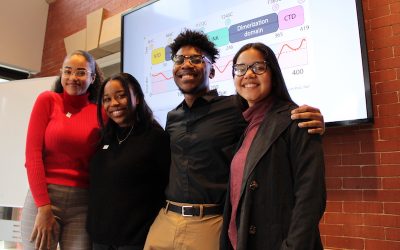 Part of the School of Education Center for Academic Achievement and Student Development, LSAMP is dedicated to increasing the number of underrepresented students graduating with baccalaureate degrees in the STEM fields: science, technology, engineering, and mathematics.
Poster Presentations
Donyell Logan Novel, "Alkaline Earth Metal Tetraarylborate Pyazoloates"
David Coghiel, "Real-time Streamflow Monitoring of Skaneateles Lake Creeks"
Jade Carter, "Design and Testing of a Wearable Robotic Ankle Device for Post-Stroke Gait Training"
Cordiana Cozier, "The Use of Dihydropyrones as Dipolarophiles in 1,3-Dipolar Cycloaddition Reactions"
Michelle Shanguhyia, "Synthesis of Probes for Analysis of Calcium-Sensing Receptor Activity"
Camila Tirado, "Understanding the Interaction Between Secondary Cell Wall Biosynthesis and Abiotic Stress"
Brianna Gillfillian, "Network Interdiction and Optimization"
Nathania Pabon, "Does Environmental Enrichment Mitigate the Reduction in Attraction to Social Odors by Mixed Groups of Control and Maternally Separated Adolescent CD-1 Mice?"
Jose Arturo Venegas, "Behavior of Fiber Reinforced Polymer Composite Matrix at Small Strains"
Alicia Mason, "Environmental Enrichment and Social Mixing Increases Stress Reactivity in Maternally Separated CD-1 Mice"
Jasmine Rodriguez, "Analysis of Soil Nutrients in Hubbard Brook Experimental Forest"
Mia-Marie Fields, "Cardiomyocyte Contraction Behavior from Alternating Drug Delivery"
Oral Presentations
Catherine Campbell, "Assay Development for Theurapeutic Screening Against the Phase Separation Mechanism of the SARS-CoV-2 Nucleocapsid Protein"
Kaura Reyes Villarán, "The Role of Low Molecular Weight Organic Acids in The Development of a Northern Forest Soil"
Zachary Williams, "Misinformation in Science and Social Media"
Mia-Marie Fields, "Cardiomyocyte Contraction Behavior from Alternating Drug Delivery"
Learn more about the Louis Stokes Alliance for Minority Participation, or contact the program at lsamp@syr.edu or 315.443.5274.