Indebted Mobilities: Indian Youth, Migration, and the Internationalizing University (University of Chicago, 2024) is Susan Thomas's ethnographic rendering of a group of middle-class Indian migrant men who attended a public university in New York just as the institution sought to "internationalize" its campus in the wake of ongoing withdrawal of state funding.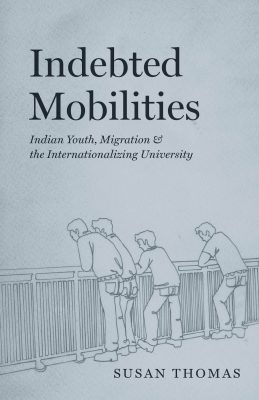 The book observes that while these young people seek the successful futures they believed to be promised when they migrated for an American education, they must face their marginalization as they become enmeshed in the fraught inclusion politics of university life in the United States. At the heart of these encounters is these students' relationship to debt—not just material ones that include student loans, but moral and affective debts as well.
This indebtedness, which keeps them tied to both India and the United States, is meaningful to how Indian middle-class men make sense of their experiences as student-migrants. These youth long to be modern "men of the world." Yet, as Thomas demonstrates, the complex realities that arise for them, informed by the logic of US exceptionalism, force them to reckon with their anxieties about successful masculinities and confront the precarity of being drawn into the global knowledge economy as indebted migrants.
"Through in-depth ethnographic research and deft and incisive theorizing, Susan Thomas' Indebted Mobilities pries open the nexus of migration and education in the world today," writes Ritty Lukose, author of Liberalization's Children: Gender, Youth, and Consumer Citizenship in Globalizing India. "Taking as her case study an internationalizing public university in the United States, she delves deeply into the experiences and aspirations of male student-migrants from India within the neoliberal university."
Lukose continues, "Pushing against stereotypes of international students as simply privileged economic actors, she carefully lays bare the material, affective, and cultural logics of debt that shape their trajectories across transnational boundaries; astutely draws out the masculinist underpinnings of their hopes and dreams; and reveals the racialized dynamics of surveillance and labor that mark their experiences within a post-9/11 landscape. This is a theoretically sophisticated, rich, and beautifully written ethnographic exploration that is a novel and original contribution to studies of migration, education, neoliberalism, transnationalism, and diaspora."
"Indebted Mobilities is a deeply theorized and beautifully written ethnography based on rich and nuanced data that challenges monolithic understandings of international students in higher education," writes Stacey J. Lee, author of Resisting Asian American Invisibility: The Politics of Race and Education. "The book makes important contributions to the scholarship on the globalization of higher education, transnationalism, and Asian racialization."