Harvard University, Syracuse University, and Le Moyne College. These are the college destinations of the Science and Technology Entry Program (STEP) Class of 2022: Michelle Amponsah and Z'nya Grainger, both seniors at Liverpool (NY) High School, and Tahirah Abdul Qadir, a senior at Syracuse Academy of Science High School.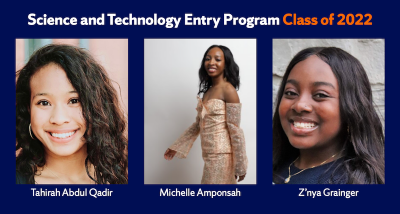 "I am very proud of my scholars. They navigated through many things over the past two years," says Leonese Nelson G'95, G'04, STEP Program Director. "If I had to use a word, it would be resilience to sum up this time."
Nelson says the three STEP graduates already have impacted their high schools and communities, with much more to come. "I cannot wait to see their future achievements—such as articles they co-author with professors, changes in nursing practices, internships with prominent companies and labs, and significant research findings. My STEP scholars can do anything they want in life, and I'm happy that Michelle, Z'nya, and Tahirah allowed STEP to be a part of their academic journeys."
A program of the School of Education's Center for Academic Achievement and Student Development, STEP provides academic support services and enrichment activities to students in grades 7-12 in Syracuse and surrounding communities.
STEP activities take place on Syracuse University's campus, with programming paralleling and reinforcing participants' school coursework, including instruction about computers, math, science, language arts, and culture, as well as preparation for SAT and New York State standardized exams. STEP instructors and tutors are drawn from Syracuse University staff, as well as graduate and undergraduate students.
STEP Class of 2022
Tahirah Abdul Qadir
Advanced Regents Diploma, Syracuse Academy of Science High School
College: Syracuse University (Biology and Entrepreneurship)
Extracurricular Activities
Martial Arts (international champion)
National Honors Society (Vice President)
Congressional Award Program (gold medalist)
Upstate New York Girl Up Coalition (Director of Women in Sports)
Northside Learning Center (Tutor/Volunteer)
African Library Project (book drive organizer)
Fight Like A Girl (founder)
EMATC Tiny Tigers program (instructor)
Awards and Scholarships
Congressional Gold Medal
Gold Presidential Service Award
Footlocker Scholar Athlete Award
Dr. Bridget Lawson Scholarship
Father: El-Java Abdul Qadir
Mother: Sophary Abdul Qadir
Michelle Amponsah
Advanced Regents Diploma, Liverpool High School
College: Harvard University (English and Government)
Extracurricular Activities
Student Voice Journalism Fellowship
Novel Minority Literary Department Co-Chair
Liverpool High School Literary Magazine
National Honor Society
Symphonic Orchestra
Awards and Scholarships
Gold Medal/National Scholastic Awards
AP Scholar (with Distinction)
YoungArts Honorable Mention
College Board BigFuture Ambassador
Father: Bernard Amponsah
Mother: Gloria Amponsah
Z'nya Grainger
Regents Diploma, Liverpool High School
College: Le Moyne College (Nursing)
Extracurricular Activities
Awards and Scholarships
Student of the Month (November 2021)
Le Moyne Loyola Scholarship
Le Moyne PromiseNY Award
Le Moyne Housing Award
Cabrini Nursing Scholarship
Mother: Dominique Grainger-Mere