Libraries have played such an important role in my life that I continue to spend most weekdays in Bird Library. Growing up an African American boy in northeastern North Carolina, libraries were segregated, and we were barred from using the public library. But I had an amazing teacher, Mrs. Spellman, who built a library for students like me in the Hugh Cale Building. She knew I was a media and technology geek, so when she got a new book about a topic she knew I was passionate about, she'd be sure to let me know.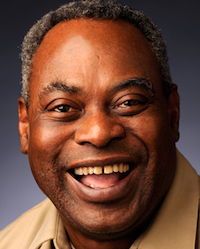 After I completed Peter W. Moore High School in 1960, I attended Elizabeth City State University (ECSU) in North Carolina. It was there that my interest in Syracuse University was piqued. The librarian at ECSU did her graduate work in library science at Syracuse. She told me about the exceptional graduate media program at SU. In 1964, I graduated from ECSU. After serving as Director of Educational Media at Delaware State University, I came to Syracuse in 1970 to start my doctoral program in the field of instructional technology.
At SU, I discovered and used the facilities of Carnegie Library. My career took a meandering path, and my academic studies were put on pause when I took positions at North Carolina Central University in 1972, and then jobs in radio and audiovisual/media in Trenton, NJ, and Washington, DC, including at Howard University.
But my mentors, Dr. Donald P. Ely, Director of Instructional Technology, Dr. Larry Myers, Chair of the Television Radio and Film Department at Newhouse, and Newhouse Dean Henry Schulte lured me back to finish my doctorate at Syracuse [Professor Wright is a 1993 graduate of the School of Education's doctoral program in Instructional Design, Development, and Evaluation].
When I returned to campus in 1975, Newhouse II and Bird Library had both been built. From there I enjoyed a long and successful career as a faculty member at Newhouse, until I retired in 2013.
So, what keeps me coming back to Bird Library, day after day, even though I'm retired? My passion for history. Whether I'm researching information for my role as retired Captain of the United States Navy and Historian for the National Naval Officers Association/Board of Directors (we're planning our 50th anniversary); the book I'm writing on the history of radio (my working title is "I Turned Up the Radio"); or the history of the African Methodist Episcopal Zion Church (where I'm a member and one of our founder's—Bishop William Walls—papers are located in Special Collections), there's so much to discover.
The collections and the spaces at Bird Library are welcoming, and being here feels natural, like coming home.
By Professor Emeritus Roosevelt "Rick" Wright Jr. G'93. Original published in Syracuse University Libraries Connection Magazine (spring 2022).