Syracuse University School of Education (SOE) has joined a consortium led by not-for-profit development group Creative focused on developing inclusive and equitable early grade education in Uzbekistan.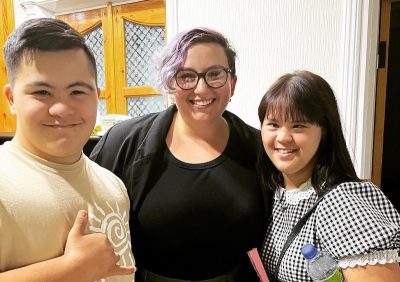 Doctoral Candidate Sara Jo Soldovieri '18, G'19 with local school students in Uzbekistan. In June 2023, Soldovieri met USAID members and others in the country to plan a new inclusive education grant collaboration.SOE's Center on Disability and Inclusion will assist Creative's implementation of the US Agency for International Development (USAID)-funded, $25 million, five-year All Children Succeeding initiative, which supports Uzbekistan's mandate to improve teacher and paraprofessional inclusive education training. The consortium will help to revise education materials, update the national curriculum, and enhance educational access for all students, including those with disabilities.
Principal investigators Professor Christy Ashby G'01, G'07, G'08 and Professor Beth Myers, Executive Director of the Taishoff Center for Inclusive Higher Education, will work on the initiative's inclusive educator preparation. One project will address pre-service training for teachers and paraprofessionals in support of improved inclusive education for all children. Doctoral candidate Sara Jo Soldovieri '18, G'19 supported the SOE team in the co-creation phase of the grant, meeting with USAID and local partners in Uzbekistan in June 2023.
To this end, CDI will audit disability-related programs, courses, and certification requirements; develop inclusive curricula, syllabi, and courses; create inclusive practicums and student teacher placements; prepare inclusive higher education faculty who can educate future teachers; and develop toolkits for use in inclusive schools that encompass Universal Design for Learning and assistive technologies.
"Syracuse has a long history of working on deinstitutionalization and school inclusion, and we're thrilled to expand that work into new spaces and with new partners."
Professor Beth Myers
Additionally, CDI will help develop a structure and process for individualized support plans for students with disabilities, prepare teachers and staff to manage these plans, and strategize inclusive teaching and learning materials, including high tech (such as speech recognition and text-to-speech software) and low tech (such as adaptive writing tools and noise canceling headphones) options.
"We are excited to collaborate with Creative and the other partners to improve educational access and outcomes for students with disabilities in Uzbekistan," says Professor Ashby. "We will focus our efforts on in-service and pre-service teacher preparation to ensure that educators have the knowledge, skills, and dispositions to educate ALL children, including students with disabilities who have been historically marginalized. We are grateful to USAID for recognizing the importance of this work." According to Creative, Uzbekistan's education system has historically followed a teacher-centered, textbook-driven model where all students are expected to learn the same material at the same pace, leaving little room for diverse engagement strategies.
"We are hearing from the people of Uzbekistan that they want more inclusive schools," says Professor Myers. "We are excited that their government has set a goal that 51% of their schools will be inclusive by 2025, and they are asking for support and collaboration on these efforts. Syracuse has a long history of working on deinstitutionalization and school inclusion, and we're thrilled to expand that work into new spaces and with new partners."
Joining Creative and CDI to help Uzbekistan reach its inclusive and equitable education goals are Sharoit/Praxis Plus, an Uzbekistani advocacy organization for people with disabilities; Yuksalish, an Uzbekistani civil society and development group; and the American Councils for International Education, which will provide expertise in learning assessments and English language learning.