A resident of Lahore, Pakistan, Hafiz Awais Afzal earned his M.S. in Instructional Design, Development, and Evaluation from Syracuse University School of Education in 2022. He also holds a bachelor's degree in Computer Science from the University of Bradford, UK.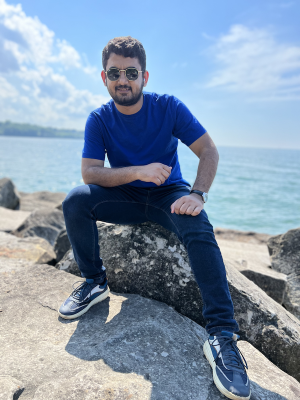 An education entrepreneur, Afzal is the founder of Rahnumai, an online educational consultancy and universal application portal for Pakistani universities. Afzal describes his company as helping to identify "the problems that plague Pakistan's education system."
"Rahnumai emerged as a vision with the sole purpose to make higher education accessible and affordable to all students of Pakistan and to ensure availability of equal opportunities to students across the country," he adds.
Describe your current roles and its responsibilities.
I am a "solution architect," responsible for exploring new problems and designing solutions for those problems.
How did the School of Education prepare you for this role?
My role is focused on the Analyze, Design, Develop, Implement, and Evaluate (ADDIE) model of instructional design, where I perform front end analysis and design and evaluation tasks.
What current trends do you see in your specialty and how are you addressing them?
My area of specialization—educational technologies—is one of the fastest growing domains, especially after the coronavirus pandemic. There is a lot of development happening in edtech around the globe. I am focusing on educational management, but due to the current political situation in Pakistan and lack of appropriate policies, I am facing challenges to implementing my projects.
For instance, I was supposed to develop a scholarship crowdfunding platform—which I worked on during my stay in Syracuse—but upon my return, I came to realize that crowdfunding is still illegal in my country.
What academic program stood out for you most as a student at SOE?
I can't say that only one or two were good—it was a combination of everything that made the School of Education very special for me.
When I came to Syracuse, I never thought I would get this kind of learning experience. I had a different image of professors as a graduate student due to my experience with the Pakistani education system, but starting with Professor Moon-Heum Cho and ending with Professor Jing Lei, all my professors played a key role. Their teaching methods, the care they showed for
students, accessibility to them, and the knowledge of domains were amazing. But my relationship with Professor Gerald Edmonds was very special—the way he taught and mentored and the connections he provided were very useful.
Make a pitch for SOE—why should a prospective student choose the School of Education?
SOE made me realize that learning is not a race. Learning is a process of how you feel, reflect, and move knowledge forward. I never felt a burden or hurry during my stay. It was all about how much you explored, experimented, and learned. It was about me!