Six Orange Holmes Scholars participated in the 74th American Association of Colleges for Teacher Education (AACTE) Annual Meeting. Billed as the premier educator preparation conference in the nation, the annual meeting took place in New Orleans across March 4 to 6, 2022.
Joining Interim Dean Kelly Chandler-Olcott and Orange Holmes Scholars Advisor Professor Courtney Mauldin at AACTE 2022 were Linzy Andre, Kirsis Dipre, Cassaundra Guzman, Tiffany Hamm, Robin Maxile, and Phillandra Smith.
Syracuse University School of Education (SOE) partners with AACTE to offer the Holmes Scholars Program, which supports students from historically underrepresented communities in the early stages of their education careers. By supporting Holmes Scholars, the program promotes the diversity of the profession and prepares educators to serve diverse learners.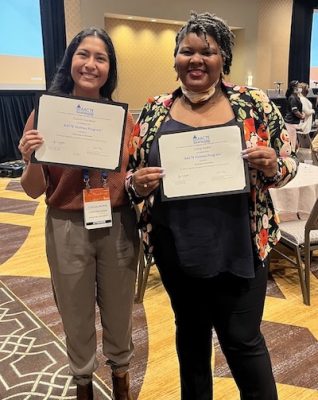 2021 Orange Holmes Scholar Cassaundra Guzman says "the Orange Holmes program has welcomed me with open arms. Being a first-generation student who does not have a lot of familial support, I rely heavily on faculty, staff, and peers, including this program and my cohort-mates. Programs such as these are vital for us to be retained at these schools and boost the number of students of color who finish graduate degrees."
Serving a three-year term, Orange Holmes Scholars are first- or second-year SOE doctoral students interested in teacher, leader, or counselor education.
Among the many benefits Holmes Scholars receive are financial support to attend the AACTE Annual Meeting, with opportunities to present research, receive mentoring, and attend a job fair; an opportunity to take part in AACTE Washington Week events; and participation in the Dissertation Funding Competition. This year, Tiffany Hamm competed in the dissertation competition, presenting her work on "The 'Green Roofs Unit:' A Science Unit Using Transformative Science Methods."