Christian Bevilacqua, a sophomore working toward a double major in Social Studies Education and Geography, with a minor in Global History, has been awarded a US Department of State Critical Language Scholarship (CLS).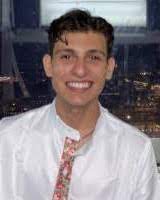 The CLS Program is an immersive summer study abroad opportunity for American college and university students to learn languages less commonly taught in the US yet essential to America's engagement with the world. This year's recipients will use the scholarship to help them learn and improve Hindi and Persian language skills.
Also a member of the ​Renée Crown University Honors Program and a student teacher in the Syracuse Central School District, Bevilacqua says his "biggest aspiration is to become a high school geography teacher for urban public schools."
Bevilacqua's CLS scholarship will support his strong commitment to inclusive education and culturally responsive and sustaining teaching. "My goal for participating in CLS is to become proficient and effectively communicative to my Indic-language speaking students and their grown-ups!"
Learn more about Syracuse University School of Education undergraduate majors and minors, including the B.A. in Social Studies Education (Grades 7-12).