The work of H. Anh Murphy, a student in the Syracuse University School of Education's Instructional Design, Development, and Evaluation (IDDE) master's degree program, was recognized at the 15th annual CNY BEST Talent Development Awards Ceremony—organized by the Central New York chapter of the Association for Talent Development (ATD)—held on Nov. 3, 2022, at the Hilton Doubletree in East Syracuse, NY.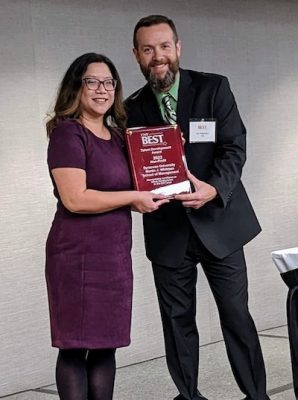 Current IDDE doctoral student Hemalathaa K. Yuvaraja also received a CNY ATD scholarship.  
Murphy, an academic advisor for online master's programs in the Martin J. Whitman School of Management, submitted her IDDE master's program capstone project: "Whitman School Help Case Management Training."
Describes Murphy, this project arose from the need to establish a consistent training process for the 20 or so student workers hired by Whitman School's Information and Technology Services (ITS) department each semester. "These student workers need to be onboarded and trained on the department's policies and procedures at the start of each semester," explains Murphy.
Before Murphy's project, there was no formal training program, which led to knowledge gaps and inefficient operations at Whitman ITS. Thanks to Help Case Management Training, student workers are now better able to read and understand help desk tickets via Salesforce: "The students are trained to identify a problem and either close the ticket or transfer it to the appropriate ITS consultant who can resolve the case." 
"I took everything I have learned in my School of Education IDDE classes and applied them to this project," adds Murphy. "In fact, I have tried to incorporate every instructional design practice I can into my job, especially assessment and evaluation."