The 2023 Syracuse University Three-Minute Thesis champion is Lei Wang, a doctoral student in the Instructional Design, Development, and Evaluation (IDDE) program in the School of Education. She presented "Decision-Making Matters: A Learning Resources Tool to Prompt Deeper Learning" at the 3MT finals on March 3 in Bird Library.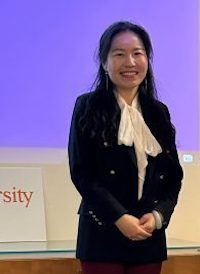 3MT is a research communication competition that challenges graduate and doctoral students to deliver a compelling oration on the nature, significance, and interests of their dissertation or master's thesis research in three minutes or less.
Wang spoke about an innovative tool she developed to address a significant gap in the field of instructional design. She paired the tool with a systematic and comprehensive study evaluating the features of learning resources that prompt deeper learning. The term "deeper learning" goes beyond rote memorization of facts. Through thorough and in-depth understanding of content, it helps students transfer and apply knowledge to tackle new problems from multiple perspectives.
The competition provided Wang the opportunity to share her research with a wider audience while building confidence in her public speaking abilities, she says. "As an international student from China, winning this has been an incredible achievement. The recognition has given me a newfound confidence in my abilities and strengthened my resolve to continue pursuing excellence in my field."
Wang's grand prize is a 16-inch MacBook Pro M1 computer. She also received a one-year membership in the American Educational Research Association. She will represent Syracuse University in the Northeast Association of Graduate Schools' 3MT competition in April.
Attendees selected as "People's Choice" winner Yousr Dhaouadi, a chemical engineering doctoral student in the College of Engineering and Computer Science, who discussed "Controlling Bacterial Stress Tolerance with Light."
Read the full story.
Lei Wang, Yousr Dhaouadi Take Awards in 'Three Minute Thesis' Graduate School Competition