After 34 years of service to Fordham University, Jeff Gray is retiring as Senior Vice President for Student Affairs. During his tenure, he modernized the university's student affairs function, introducing numerous new programs while facilitating growth in the residential population and overseeing the opening of four new residence halls.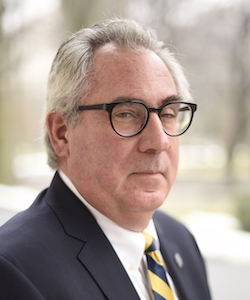 Gray served as a member of the Fordham President's Cabinet for 27 years, helping to guide the university's broader strategic direction. He worked closely with student-athletes and the journalism program, serving as an advisor to the student newspaper.
Past President of the Jesuit Association of Student Personnel Administrators, Gray was an active member of the National Association of Student Personnel Administrators and served as a peer evaluator on multiple review teams for the Middle States Commission on Higher Education.
Other roles at Fordham included Dean of Student Life and Assistant Dean of Students. Before that, Gray was Assistant Director of Residential Life and Housing at Montclair State University, Assistant Director of Housing at Western Connecticut State University, and Director of Counseling and Guidance at McGraw (NY) Central Schools.
Describe your most recent roles and its responsibilities.
With 42 years of experience in secondary and higher education, for the past 27 years I have served as the Senior Vice President for Student Affairs at Fordham University, overseeing and providing leadership for all student affairs functions across Fordham's multiple campuses, including the leadership and supervision of 25 senior level professional staff members, 150 professional and support staff, 350 contract employees, and more than 200 student employees, with operating budgets of more than $85M and revenue budgets of more than $98M.
How did the School of Education prepare you for your career?
Close personal advising and teaching by faculty mentors—and internships in the local schools—helped prepare me for my initial responsibilities as a junior-senior high school guidance counselor in a rural Upstate New York public school, and later for a lifetime of service and work in higher education.
What current trends do you see in your specialty and how have you addressed them?
Rising mental health issues among college age students have been exacerbated by the COVID pandemic, which has also contributed to lost learning, lost learning skills, and lost social engagement skills—all of which have adversely contributed to the academic, social, and personal development of high school and college students.
This is the crisis of our lifetime and will impact a generation of kids. In anticipation of this impact, we made sure to be present to our students throughout the crisis, providing an in-person experience when many other places did not, however compromised the circumstances may have made it. We also made sure that all services were attuned and responsive to changing needs of our students, in areas such as health, counseling, and disability services and programming.
What academic program stood out for you most as a student at SOE?
I was in the counseling and guidance program, and had the good fortune of working closely with professors Alan Goldberg and Dick Pearson. Professor Pearson was my academic advisor, and I had Professor Goldberg for most of my classes. They created a great atmosphere and close-knit community within the program. It was a good home base for me.
Make a pitch for SOE—why should a prospective student choose the School of Education?
In a large institution, such as Syracuse, the close-knit community of teachers and students creates a great home base from which to learn and do your work. The profile and name of Syracuse University is well known, and there are many connections. As an example, I recently served on a Middle States peer review team, and four of the six members were Syracuse alumni with close ties to the University and fond memories of it—all of which made the work of the peer review team very dynamic.