Christian Bevilacqua '24, a Social Studies Education major in the College of Arts and Sciences and School of Education and a Geography major in the Maxwell School of Citizenship and Public Affairs, has been named a 2023-2024 Syracuse University Remembrance Scholar by the Remembrance Scholar Selection Committee.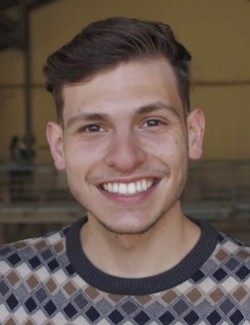 Bevilacqua also is a member of the Renée Crown University Honors Program. For his honors thesis project, he is researching the environmental and educational policies of the six states of the Persian Gulf Cooperation Council for "National Vision Policy-Led Sustainable School Initiatives in the Gulf States: How Does Environmental Sustainability Policy Intersect with Education Policy in the Gulf?"
Also receiving a Remembrance Scholarship is Sophie Creager-Roberts of Charlottesville, Virginia, an Environmental, Sustainability, and Policy major and History major in the Maxwell School and College of Arts and Sciences, a Atrocity Studies and the Practices of Social Justice minor in the School of Education, and a member of the Crown Honors Program.
Remembrance scholarships, now in their 34th year, were founded as a tribute to—and means of remembering—the students studying in London and Florence through Syracuse University who were killed in the Dec. 21, 1988, bombing of Pan Am Flight 103 over Lockerbie, Scotland. Those students were among the 270 people who perished in the bombing.
The scholarships are funded through an endowment supported by gifts from alumni, friends, parents, and corporations. Significant support for the Remembrance Scholarships also has been provided by Jean Thompson '66 and Syracuse University Life Trustee Richard L. Thompson G'67 in memory of Jean Taylor Phelan Terry '43 and John F. Phelan, Jean Thompson's parents; by Board of Trustees Chairman Emeritus Steven Barnes '82 and Deborah Barnes; by The Syracuse Association of Zeta Psi in memory of Alexander Lowenstein; and by the Fred L. Emerson Foundation.
Remembrance Scholars are chosen in their junior year through a competitive selection process. Applicants submitted an essay and a reflective response in multimedia, artistic, musical, or written format as part of a comprehensive application. The selection committee is composed of University faculty and staff and current Remembrance Scholars. The $5,000 scholarships are awarded on the basis of scholarship, leadership, and service to the community.
Additionally, two students from Lockerbie come to Syracuse each year for one year of study through the Syracuse-Lockerbie Scholarships, also in their 34th year. The scholarships are jointly funded by Syracuse University and the Lockerbie Trust.