When Professor Corrine Occhino took the helm of the School of Education's American Sign Language program in fall 2021, three sections of ASL 101 and one section of ASL 102 were offered. Since then, ASL has been added to the languages accepted for the University's core language requirement, and the program has doubled in size. In fall 2023, students will choose from five sections of ASL 101, two sections of ASL 102—and a new ASL 201 course. ASL 202 is set to launch in spring 2024.
Wonderful New Worlds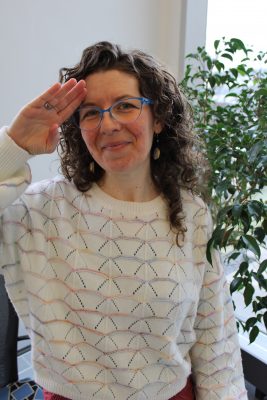 ASL is housed within SOE thanks to the School's long, pioneering history in disability studies and inclusive education.
The School began by offering classes in Signed English (a visual representation of English words, grammar, and syntax). Later ASL (which has its own grammar and syntax, independent from English) was added as special topic elective. In 2013, courses were regularized, and the ASL prefix was added to the list of course offerings in the School of Education for the first time.
First studying ASL as an undergraduate at the University of Wisconsin-Milwaukee, Occhino says that "like many of our students, I was curious about ASL and interested in learning more about the language and culture. Taking ASL classes really can open the door to wonderful new worlds!"
Occhino came to Syracuse in Fall 2021 from the Rochester Institute of Technology, where she was a research assistant professor in the National Technical Institute for the Deaf. In keeping with another SOE tradition, she now has a dual appointment in the College of Arts and Sciences (A&S) Department of Languages, Literatures, and Linguistics (LLL).
Occhino says it's important that ASL classes at SU are taught by Deaf ASL teachers. "The Deaf community should be the keepers of their own language," she explains. "They have the cultural and linguistic knowledge to best teach the language and culture to future signers."
Becoming Allies
ASL classes on campus are taught by a roster of three Deaf instructors: Kimberly Amidon, Tamla Htoo, and Michael Mazzaroppi (with another instructor being added in fall). "Each of these instructors has several years of teaching experience," says Occhino. "It is good for Deaf ASL teachers to have the opportunity to teach ASL, and it shows that the University supports cultural values among the Deaf community."
Mazzaroppi says he is excited for the expansion of ASL at the University. "They have been discussing this for years now," he observes. "SU is big on being inclusive and diverse, so it would make sense that they would offer more ASL classes. I believe ASL's popularity has to do with the exposure in mainstreamed Hollywood, and I know it is growing popular among the disability community as the language for the Americans with Disabilities Act."
"Taking ASL classes really can open the door to wonderful new worlds!"
—Professor Corrine Occhino
"When I was first hired, students found ASL fascinating because of facial expressions, body language, and immersion of Deaf culture," says Amidon. "Students learned more from a native Deaf teacher, and when they found out that I am providing level 3 instruction, that has made them even more excited to go further with their ASL studies. I enjoy giving back to the students and sharing my passion for the Deaf community, to teach them how to become allies."
Amidon adds that she hopes to see more courses related to Deaf studies added, addressing history, culture, and language: "Deaf studies includes Deafhood, a deeper look at history and culture, as well as linguistics."
Up to Par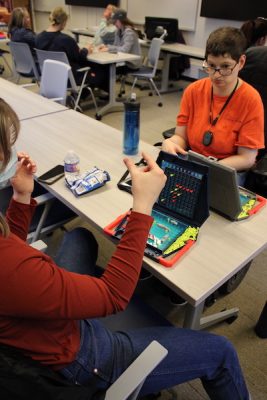 Along with directing the ASL program and teaching the 300-level course Diversity of Signed Languages and Deaf Cultures, Occhino is an active researcher. She collaborates with the local Deaf-run non-profit Deaf New Americans (DNA) on a funded by an A&S Engaged Communities Grant. The grant supports a storytelling initiative for members of Syracuse's Deaf refugee population to share their experiences with the broader Deaf and hearing community, both in Syracuse and beyond.
Another project—Documenting Individual Variation in ASL (DIVA)—is a continued partnership with researchers at the National Technical Institute for the Deaf. It charts the language's minoritized and marginalized varieties.
To elevate ASL to a core language requirement offering, Occhino teamed up with Htoo. "We began to bridge the gap between LLL and the School of Education, to make sure that the ASL curriculum was up to par with other core requirement languages housed in LLL."
The pair reviewed and re-designed the ASL curriculum to meet national benchmarks, designed new syllabi, and ran the curricular changes through the SOE and A&S curriculum committees. The re-designed program was launched in fall 2022. Currently, Occhino and her team are working to develop new courses to add to the ASL and Deaf studies curriculum.
A Fun Class
What can students expect in an ASL class?
First—there's no talking. "Our classes are fully immersive—voices off, hands up as we say! ASL is a visual language that uses three-dimensional space, so it's different from learning a new language in a spoken modality. "Students also learn about the richness of Deaf culture and the Deaf community," notes Occhino. "It's a fun class—very interactive, and you learn to move your body to make language."
"I enjoy giving back to the students and sharing my passion for the Deaf community, to teach them how to become allies."
—Kim Amidon
To facilitate learning, students play games, put on skits, and practice using ASL in small groups. There's regular conversation tables and game nights that meet in Huntington Hall throughout the semester. "These extra-curricular activities also are a chance for students to meet members of the local Deaf community, and a chance for the Deaf community to see what a great job ASL at Syracuse University is doing."
"We as a Deaf community are so excited to see SU promoting our culture and language for students to learn," observes Amidon. "We are thrilled to share our perspectives and teach the students a beautiful language that will promote accessibility. A student might encounter a Deaf person in their career—by knowing ASL, they can communicate and remove barriers and frustration."
Adds Mazzaroppi, "The Syracuse Deaf community looks forward to being more involved with the University's signing community."
To learn more about American Sign Language classes, contact Professor Corrine Occhino at cmocchin@syr.edu.