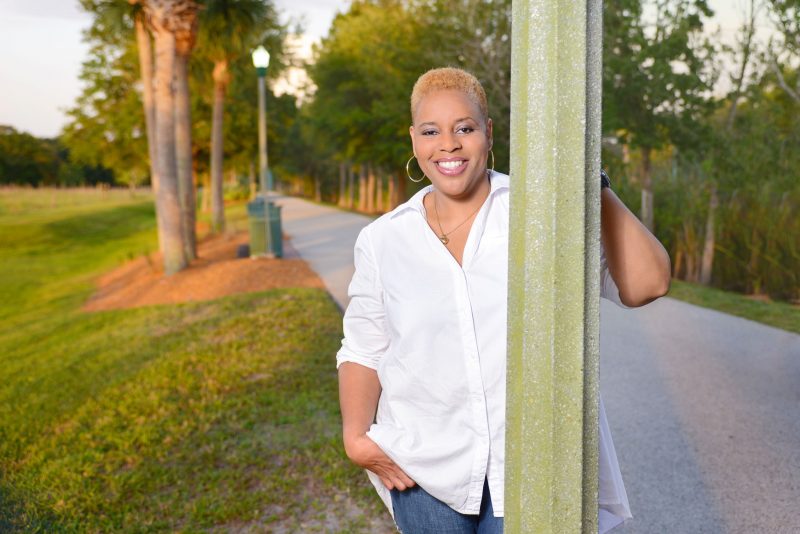 Proud of her Bahamian heritage, Wendy Coakley-Thompson G'99 has long puzzled over why Bahamian culture has been overlooked in the United States.
Four years ago Coakley-Thompson, now an instructional systems designer for the Department of Commerce's International Trade Administration, started a publishing house, Duho Books, which describes itself as celebrating the vibrant culture, history and people of the Bahamas.
She balances her career as a communication and instructional technology professional with what she calls "my twin passions," her creative pursuits as a writer and advocacy of Bahamian culture.
Coakley-Thompson has combined all these interests with her recent gift to the School of Education: a scholarship for graduate students studying instructional design, development and evaluation who may have an interest in cultural, historical, socioeconomic or other issues affecting the Bahamian diaspora. It's called the Dr. Wendy Coakley-Thompson Sunshine in Syracuse Graduate Scholarship.
"It's as simple as the hope that the scholarship will enable Bahamian students to bring the warm Bahamian spirit and a sliver of a tropical paradise to Syracuse," she says.
She had come to the SOE to study for a doctorate in the Department of Instructional Design, Development and Evaluation (IDD&E) because of its combination of technology, broadcast production elements and education.
"I received a first-class education at Syracuse University in general and in the School of Education in particular," says Coakley-Thompson. Before completing her dissertation, she returned to the Bahamas to teach and said she was stunned by the lack of access to technology and the strategies to integrate it into education.
"I wanted Bahamian educators to have the same opportunities that Syracuse had afforded me."
So, more than 20 years later, she's endowed the scholarship for IDD&E students.
"The Sunshine in Syracuse Scholarship should give Bahamians by birth and by descent access to a stellar education, state-of-the-art technology and a strong, thriving network, which I urge them to use to benefit the Bahamas in innovative and creative ways."
"IDD&E programs have been growing, and students are applying from across the country and around the world. Many of them will benefit from Dr. Coakley-Thompson's generous support," says Jing Lei,
professor in instructional design.
Her time as a doctoral student demonstrated the importance of determination and persistence, what Coakley-Thompson calls her best lesson learned at the SOE.
"Never give up on a dream, as much as you may want to from time to time, she says. "A doctoral program is grueling, and mine was no exception. The program and Syracuse's frigid weather tested my
mettle in ways that I never could have imagined."
She recalls telling her dissertation defense chair, Roosevelt "Rick" Wright Jr., now professor emeritus of television, radio and film in the S.I. Newhouse School of Public Communications, "that I may have
bitten off more than I could chew, to which he said something like, 'Well, you've just got to keep chewing.'"
She completed the dissertation, "The use of popular media in multicultural education: Stressing the implications for the Black/ non-Black biracial student," and began a career of teaching at the University of Georgia and Strayer University in Herndon, VA, and working at the American Red Cross and the U.S. Census Bureau, among other stops.
Her family had been part of the West Indian diaspora that moved in the 1950s to Brooklyn, NY, where she was born and lived until she was almost 4. At that point her parents, missing their large family and wanting to be active as their ancestral home was on the verge of independence from Great Britain, departed for the Bahamas. Coakley-Thompson stayed until she was 17, then went to college in New Jersey.
Of Americans' cultural ignorance of the Bahamas, she says, "Other countries are quite aware of the Bahamas. However, it's been my experience that Americans tend to conflate all people from the Caribbean with Jamaicans. That used to infuriate me. As I matured, though, I realized that it was better to light a candle than curse the dark."
Creating Duho Books lit that candle. A duho is a seat made from a single piece of wood, representing an anthropomorphic figure with sculptured head and engraved geometric designs on the back.
Coakley-Thompson writes mainstream women's fiction, including Writing While Black, Triptych, Back to Life and What You Won't Do For Love.
Duho Books features various perspectives on the Bahamas and Bahamians by authors whose works are set in the Bahamas (S.L. Sheppard), who write about the supernatural (N.A. Cash) and an American author of Bahamian descent writing about the intertwined histories of the Bahamas and Cuba (Marin Frederique).
"All I can say is that, just because Americans don't see Bahamian culture and literary traditions, doesn't mean that they don't exist," Coakley-Thompson says.
You can support students in the School of Education through scholarships and other opportunities. Want to learn more? Contact Torin Washington.