It is with a heavy heart that we say goodbye to a dear member of the School of Education community. Our student, alumna, colleague, and friend Megan Cartier G'20 passed away on Feb. 28, 2023, after a long battle with cancer.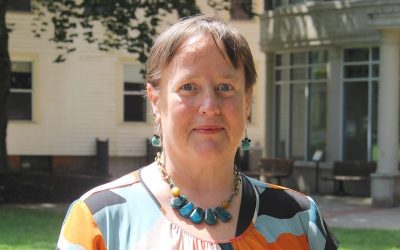 Megan was a Ph.D. candidate focusing on inclusive education and disability studies, and she graduated in 2020 with a Certificate of Advanced Study in Disability Studies. At the time of her passing, she was an assistant professor of special education at The College of St. Rose in Albany, NY.
"Megan was a self-described Army brat who deeply cared about military families. Her dissertation was around military connected families and their access to special education services," says Professor Julia M. White, who was Megan's dissertation advisor.
"Megan deeply cared for students enrolled in InclusiveU and taught a cooking seminar for the program that she considered her favorite work. She led the first-ever national Student Leadership Conference for college students with intellectual disability," says Professor Beth Myers, who was a member of Megan's dissertation committee.
"Joy, kindness, hospitality, welcome. Those are all words I would use to describe Megan," says Professor Christy Ashby, Director of the Center on Disability and Inclusion. "She modeled what it means to be an inclusive, collaborative, and committed educator and scholar. We were all better for having known known her and will miss her so terribly much. There is a hole in our School of Education heart today. Rest in power and peace."
Discussing her commitment to inclusion with The College of St. Rose, Megan noted that for her, "Disability is a fluid category, meaning that at any given point in time, individuals can move into or out of a label of disability. As such, all students need to understand and acknowledge disability and difference in ways that privilege individual voice. Inclusive education is not only meant for students with disabilities. Inclusive education means that all students in the classroom have access to the supports and services needed to ensure their success."
A Mass of Christian Burial will be held on Tuesday, March 7, 2023, at 11 a.m. at St. Peter's Catholic Church, Lowville, NY. Memorials in Megan's name may be made to: Friends Of Lewis County Hospice, Inc., P.O. Box 266, Lowville, NY 13367 or Lewis County Humane Society, P.O. Box 682, Lowville, NY 13367.
If you would like to make a gift in memory of Megan Cartier, contributions may be made to InclusiveU for the benefit of military-connected InclusiveU students. Please contribute here, click on "My gift is a tribute," select "In memory of," and note Megan's name. If you would like her family notified of your support, you can include their name and address as well: The Cartier Family, 6958 Olmstead Rd., Lowville, NY 13367.
Megan was born in Colorado Springs, CO, where her dad was serving at Fort Carson. After attending schools in the US and Europe, she received her B.A. from the University of New Hampshire and her Master's of Education from Georgetown (KY) College. Her position at The College of St. Rose was "her dream job"—her desire was to teach teachers who would pursue degrees in inclusive education.
Megan is survived by her parents, Carolyn and Jerry Cartier of Lowville; a brother, Matt (Heather); a niece Ashley (Jon); a nephew, Noah; her beloved dog, Logan; and many aunts, uncles, and cousins.