Mike Haynie, vice chancellor for strategic initiatives and innovation and executive director of the D'Aniello Institute for Veterans and Military Families, and retired U.S. Army Colonel Ron Novack, executive director of the Office of Veteran and Military Affairs, attended the annual graduation ceremony of 15 students in Fort Bliss, Texas.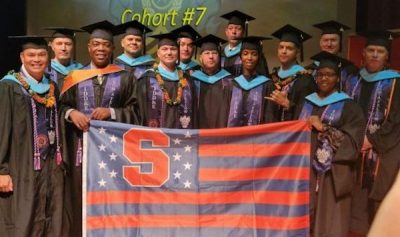 The students took part in the U.S. Army Sergeants Major Academy Fellowship Program and in partnership with Syracuse University, the fellows completed master's degrees in instructional design, development and evaluation (IDDE) through the School of Education. Their graduation officially makes them part of our Orange family and marks the completion of the third annual cohort since the University became a partner.
The online master's degree in IDDE consists of 30 graduate credits with the goal of developing expertise to design, create, implement and evaluate non-technology and technology-supported instructional solutions for a variety of educational and professional settings.
Students participate in coursework areas such as principles of instruction and learning, techniques in educational evaluation, technologies for instructional settings and strategies in educational project management.
Most of the fellows will go on to design and instruct the academy's Sergeants Major Course, which educates the military's enlisted personnel to operate on all levels of leadership.
Graduate Spotlight: Sergeant Major (SGM) Justin Hood G'22
I was there when the partnership was first started and was excited to see what that IDDE program was going to bring for my SGM fellows.
Growing up in a small town outside of Illinois leaves much to the imagination of a young boy. Influenced by his hardworking father, SGM Justin Hood wanted to pursue something that reflected the demanding work he watched growing up. At 16 years old he joined the Army National Guard's split entry program and succeeded early on. After completing basic training, Hood decided to become active-duty and join the UH-60 Blackhawk unit. He quickly worked his way to flying commanding generals around in Germany in just four months, a brief amount of time compared to what it takes most to get to that position.
While serving in Germany the unimaginable happened at home with the 9/11 terrorist attacks. Hood went from thinking he would never see combat to being on the front lines. After serving for over a year in the Middle East, he returned home and went to Fort Eustis, Virginia, to go back to school. While in Virginia he met his, wife who encouraged and inspired Hood to pursue a higher education degree. Hood was selected to become part of the Sergeants Major Academy, where he found a passion for education. "The fire was lit and I quickly understood and appreciated adult education and lifelong learning," says Hood.
When first assigned, he was helping support the fellowship programs at the Academy and became intimately aware of the relationship being built with Syracuse University. Hood says, "I was there when the partnership was first started and was excited to see what that IDDE program was going to bring for my SGM fellows." After seeing the program's success, Hood enrolled himself. Within a week he knew he had made the right decision as he was exploring concepts he had never learned before and embracing the challenges that came with new learning.
Alongside his 14 other classmates, Hood was put into a small group tasked with developing a product to meet their learning objectives. "We pretty quickly learned each other's strengths and weaknesses, which made the entire process easier," says Hood. When meeting to work on their product, meetings would often run three to four hours because they would get so deep into discussion and finding the best way to move their product forward. Those meetings reinforced Hood's feelings about being a lifelong learner as an adult, because of the experiences he shared with his peers.
All students enrolled in the IDDE program at Fort Bliss are invited to attend Commencement at Syracuse University. Many are unable to attend due to conflicts, but Justin had the opportunity to come to campus and not only see his college for the first time but enjoy graduation alongside the rest of his Syracuse family. On Aug. 22,  Justin joined the rest of his cohort in Fort Bliss for a special graduation ceremony.
After graduation, Hood has his eyes set on continuing his education and starting his own business. Through what he has learned from his IDDE courses, Hood believes there are business areas open where he can capitalize on his new skill set and that there is room to still learn.
"I'd like to set up a consulting firm that aids military training and sales because I still have a lot of connections that call me for that advice," he says. "I've been fortunate to study a lot, but there are still areas that require further exploration."
Hood looks forward to learning more about the augmented reality space, finding ways to apply it to more aspects of life and potentially ways to improve its transferability through his IDDE skills.
By Austin Philleo
SGM Justin Hood G'22 and 14 Other Fellows Graduate From IDDE Program at Fort Bliss