What is it like to be autistic and non-speaking in a world that has already made up its mind about you? On March 30, 2023, Syracuse University School of Education and the Center on Disability and Inclusion will present This Is Not About Me, a film about Jordyn Zimmerman, an autistic woman and disability activist who fought hard to be recognized and trusted. Zimmerman will be present at the screening and will answer questions from the audience.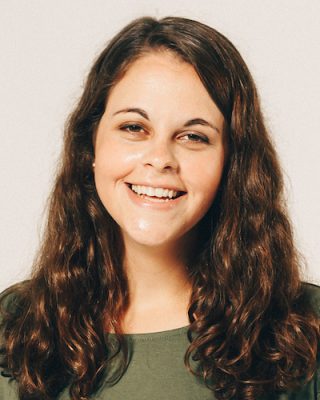 This hybrid event takes place in person in the Melanie Gray Ceremonial Courtroom, Dineen Hall, and via Zoom on March 30, 2023, from 5 to 7 p.m. Eastern Time. For more details and to register for the Zoom simulcast, visit the SU Calendar.
Born and raised in Ohio, Zimmerman dreamt of becoming a teacher. She started out eager to learn, but she was soon separated from the other children. Unable to communicate, teachers thought she was also unable to understand or learn. As her behavior worsened, she was restrained and placed in seclusion. She found herself caught in a system that turned her life into a living nightmare.
But at 18, Zimmerman met educators who saw her differently. They gave her a tool—Augmentative and Alternative Communication (AAC)—that allowed her to communicate, advocate for other students, and engage in learning. She graduated high school in just a year and went on to receive a bachelor's degree in Education Policy from Ohio University and a master's of education from Boston College.
Recognized by the International Council for Exceptional Children with the "Yes I Can!" Award, Zimmerman has keynoted and presented at conferences around the world, is Board Chair of CommunicationFIRST, works at The Nora Project, and has been featured by prominent media outlets on an international level. In 2022, Jordyn was appointed to the President's Committee for People with Intellectual Disabilities.
Filmed in an observational style, This Is Not About Me offers a glimpse into Zimmerman's daily life, difficult moments in her childhood, and interviews with teachers who worked closely with her. Piece by piece, her story reveals how professionals misunderstood her, pushed her deeper into a broken education system, and how she eventually flourished. Today, she is passionate and determined to make a difference in the world of education, by ensuring every student can access effective communication and exercise their right to a truly inclusive education.
The film screening and Q&A with Jordyn Zimmerman is presented by the School of Education's Ganders Lecture Series and the Center on Disability and Inclusion. The event is co-sponsored by the College of Law, Falk College of Sport and Human Dynamics, Karen Colapietro Seybold G'92 and Family, Office of Diversity and Inclusion, and School of Education Atrocity Studies and the Practices of Social Justice minor program.
The Ganders Lecture Series memorializes Harry S. Ganders, the School of Education's first Dean, and his wife, Elva. The lecture was established by the Ganders' daughters and is also supported by alumni and other contributions to the Harry S. and Elva K. Ganders Memorial Fund.