Recognizing the significance of the first-year experience, Project Transition intentionally involves the whole family in the college experience to increase retention, open communications channels and build a stronger connection to campus.
Research shows that there is a higher success rate for students who are historically under-represented in college if their families are engaged. Project Transition began as a partnership between Jan Strauss Raymond '65 and Charles (Chip) V. Raymond Jr. '66, the Citigroup Foundation, the Arthur O. Eve Higher Education Opportunity Program (HEOP) and the TRIO Student Support Services (SSS) program, and has supported first-generation students and their families for over 20 years.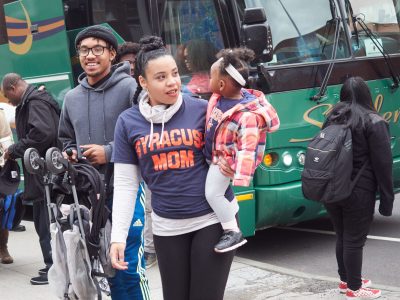 Thousands of students and their families have been served through the program, which facilitates a family weekend bus trip from the metro New York area. Families who may otherwise not be able to travel to campus spend the weekend learning about the college experience alongside their student.
Junior Diana Garcia Varo '23 has been involved with Project Transition since her freshman year. "The HEOP/SSS staff gave me a warm welcome, which made navigating the college campus much easier, as it reminded us that we do belong here." She says Family Weekend was an eye-opening experience, especially for her parents and two younger siblings who attended. They had never set foot on a college campus, and she was able to give her parents a tour of the art studios, other campus facilities and her dorm and introduce them to staff, professors and other families. "This experience helped ease homesickness as a first-year student and gave my family the security of knowing that I was in a safe space with HEOP/ SSS's guidance."
This past January, HEOP and SSS started reaching out to similar programs such as Kessler Scholars and the Posse Program to gauge their interest in participating in Project Transition. SSS associate director Amy Messersmith, says, "The rationale behind this outreach was that because all of these programs serve similar populations, we thought Project Transition could be an opportunity for us to come together around this common goal of making the college experience more accessible to first-generation students and families."
This new version of Project Transition aims to create a more solidified and comprehensive initiative by engaging other marginalized populations at Syracuse.
HEOP associate director Marieke Davis says that the challenge is getting everyone here and making Syracuse truly inclusive. "In addition to Family Weekend, we are planning more experiences to create a solid network of support and deeper family engagement."
One project that hopes to do just that is the Project Transition Testimonial Video, being produced and edited by Garcia Varo. She aimed to capture the essence of the experiences of first-generation students and others looking for additional support through personal photos and anecdotes. "From this video project, I hope to shed light on the importance of sponsored programs that guide students financially, socially and academically."
Garcia Varo knows that, through Project Transition and that first family weekend, her family was able to see that she had a strong community support system at Syracuse. "They came to two of my art exhibitions where they saw my drawings, ceramics and woodwork. They became more aware of my potential as an artist and came to realize that, because not everyone has the privilege to attend a prestigious university like Syracuse, it is important to seek opportunities and not be set back by obstacles that may come along the way."
Aligning a Mission
Based in the School of Education, the Arthur O. Eve Higher Education Opportunity Program (HEOP) and TRIO Student Support Services (SSS) program serve academically at-risk students from lower income-earning families, many of which are primarily first-generation college students or from underrepresented populations. With the support these programs provide through academic counseling, financial aid, community building events, career development activities and other supportive services, HEOP and SSS students graduation rates mimic that of others who come to the university with stronger academic profiles.
Through the Irene and Morris B. Kessler Presidential Scholars Program, an exceptional group of Syracuse University students who are the first in their family to go to college receive four years of support to help them succeed at Syracuse and beyond. First established at the University of Michigan College of Literature, Science and Arts by Fred and Judy Wilpon, the Kessler Scholars Program has grown as the leading scholarship program for first-generation students. The program provides comprehensive support through wrap-around, multi-tiered services to ensure students' success from the moment they enroll to after graduation.
Syracuse University partners with the POSSE Foundation to admit high school students with extraordinary academic and leadership potential from Miami. Selected students receive a full-tuition Syracuse University Posse Leadership Scholarship.
Additional collaborators include The Office of Student Success and Retention, the Parents Office and Office of First-Year and Transfer Programs.