Creative business coach Peter DePasquale '12—a recipient of a dual B.F.A. in arts education and printmaking, as well as an M.F.A. in printmaking from The School of the Art Institute of Chicago—will lead a four week intensive "bootcamp" accelerator to help students and recent alumni learn how to commercialize their creative endeavors.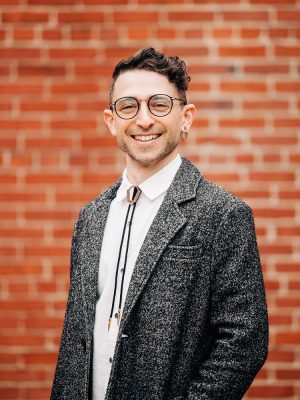 Space is limited and will be open on a competitive basis to those pursuing professional pathways in all aspects of the visual and performing arts, writers, musicians, designers, and aspiring NFT producers, as well as fabricators and makers.
DePasquale is an expert in this arena, and he is eager to share that expertise with fledgling artistic professionals across all disciplines, as well as sole proprietors, small business startups, and creative arts students.
This virtual program—hosted by the Blackstone Launchpad— starts on Monday, July 11 and runs until Wednesday, August 3, with sessions held each week on Monday and Wednesday nights from 6 to 8 p.m. ET via Zoom. The program is open to a maximum of 14 people, so apply early before seats fill up.
DePasquale is the co-owner and production director of MINIMA-MAXIMA, a gender inclusive "wearables" company that specializes in crafting bolo ties and ear jackets which incorporate stunning geometrical patterns in their design philosophy. He serves as the primary technician for small batch manufacturing of in-house merchandise, creating, editing, and producing laser cut components for their handcrafted wooden and acrylic products.
DePasquale also trains the studio assistants on production methods and manages day-to-day operations, including accounting and tax preparations, client correspondence, shipping and receiving, and e-commerce maintenance and expansion.
A professional printmaker, visual artist, jewelry maker, and expert NFT artist, DePasquale also provides creative business consulting services out of Pittsburgh, PA, where he now resides, and has been supporting creative businesses in this way for nearly five years.
DePasquale's program, like his consulting work, is designed to educate and coach artistic entrepreneurs on the core essentials of starting, running, and maintaining a successful art-based business that sells to both retail and wholesale clients, in spaces both physical and digital. This program will help create a community of support for artist business-owners moving forward, aiming to foster collaboration and local assistance in tackling the daunting task of launching and maintaining a professional artistic endeavor.
Participants in DePasquale's program will learn the principles of creating thoughtful work; selling it in-person events and through an E-commerce platform; managing the production of items and keeping an inventory system; managing customer service; ordering sustainable materials and supplies; customizing shipping procedures and operating on a shipping platform; meeting legal requirements of state and federal standards; social media account management; fundamentals of bookkeeping; and financial management for creatives and artists.
The Blackstone LaunchPad is pleased to support this intensive summer accelerator. Nearly 40% of LaunchPad participants are creatives such as artists, photographers, filmmakers, animators, illustrators, authors, illustrators, fashion designers, graphic designers, musicians, and makers. "Creatives are the quintessential entrepreneurs," says Linda Dickerson Hartsock, director of the LaunchPad, who is also an arts entrepreneur, as one of the co-founders of the Center for the Arts of Homer. "Creative economies help build strong communities, and these professions are increasingly primary career paths and side-gigs for many members of Gen Z."
Serving as peer mentor and program support for the accelerator will be John (Jack) Rose '24, a writer and entrepreneurship student at Syracuse University. Rose is founder of Bladepoint Media and a passionate storyteller who is working on his first book. His goal is to combine his love of writing and creativity, combined with his knowledge of the business world, in a meaningful way to bring positive impact and value to others. He will be available to work with students throughout the program.
The cost to participate is $125 per individual for the entire four week virtual program, paid directly to DePasquale. Interested parties should email Peter DePasquale directly at peter@minima-maxima.com and include the following:
Full Name
Contact Information (name, e-mail, phone)
Student/Alumni
Employment Status
Primary Artistic or Creative Medium
History of Owning/Running a Business (if applicable)