Lacrosse standout Katie Rowan Thomson '09, G'10 isn't prone to hyperbole, but when she says her jersey-retirement ceremony at Syracuse University "took her breath away," she means it. "I got all emotional, seeing my jersey raised to the rafters," says Thomson of the Feb. 20 ceremony, which took place between a men's and women's lacrosse doubleheader in the JMA Wireless Dome. "I was so overwhelmed that I could hardly speak."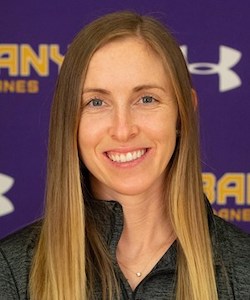 Thomson is Syracuse's first female lacrosse player to have her jersey retired. She also is the University's second female student-athlete to be recognized this way—the first was new Women's Basketball Head Coach Felisha Legette-Jack '89. Thomson says she was "blown away" last summer when Director of Athletics John Wildhack '80 called her with the news. "Until then, it's something that had never entered my mind," admits the Albany, New York, native.
That Thomson was recognized alongside her mentor and former coach, Gary Gait '91 (whose No. 22 jersey was also retired that day), gave the proceedings added significance. Rounding out the program was an appearance by legendary lacrosse player and coach Roy Simmons Jr. '58, who was inducted into Syracuse's elite Ring of Honor.
A three-time first-team All-American, Thomson recorded the most points (396) and assists (164) in Syracuse women's lacrosse history. She also helped lead the Orange to their first Final Four appearance in 2008 and the U.S. Women's National Team to World Cup championships in 2009 and 2013.
We recently caught up with Thomson, who is head coach at the University at Albany, which recently hosted the America East championship for the first time in more than decade. The iconic No. 21 attributes much of her success to Syracuse, where she earned bachelor's degrees in inclusive elementary and special education from the School of Education and in sociology from the Maxwell School of Citizenship and Public Affairs and the College of Arts and Sciences. "Everybody at Syracuse—my professors, coaches and teammates—helped make me who I am today. I couldn't be more grateful to them," she says.
"Everybody at Syracuse—my professors, coaches and teammates—helped make me who I am today. I couldn't be more grateful to them."
Congratulations on your jersey retirement. What significance does the recognition—and No. 21—hold for you?
It didn't hit me until I was on the field, surrounded by my friends and family members. I got pretty choked up, but I took in the moment the best I could.
When I came to Syracuse, 21 was one of the only numbers available. I wore No. 20 in high school, and I've always liked No. 11 because I was born on the 11th. No. 21 was a combination of the two.
One of the highlights of the ceremony was seeing Syracuse warm up in shooting shirts with No. 21 on them. I'll never forget that, along with my players who made the trek from Albany to support me.
What's it like squaring off against former coaches and teammates?
It's always interesting playing against my alma mater, especially when my former coach is involved. Same goes for players I've helped recruit and develop.
That's the nature of coaching. On game day, I wear Albany's purple and gold because I'm focused on my team playing the best they can. I temporarily put all my feelings and memories about Syracuse in a box. It's not as easy as it sounds.
Is there a difference between coaching and mentoring?
I think they overlap. Both are about teaching and inspiring people, being there for others in a compassionate way. I believe coaches should mentor their players and their colleagues.
The list of skills and concepts that Coach Gait has taught me is endless because he's such a brilliant tactician—always thinking outside the box and taking the game to the next level. He also has taught me intangibles, like how to lead in a calm way while bringing out the best in my players. He creates a positive environment where everyone feels like they can take risks and perform in a loose, creative way.
You've coached on and off at Syracuse, developing star players. What's your approach?
I've tried to serve as a role model for them. After all, they're students first, athletes second. Their health and well-being come before everything else.
It's gratifying when a former player makes the transition to coaching. You know they'll be successful. There's a legacy of knowledge that gets transferred from one generation to the next.
Why is women's lacrosse so popular?
The skill work of female lacrosse players is on display like never before, thanks to traditional and social media. Fans are discovering what a beautiful, exciting game lacrosse is and how fast-paced and high-scoring it can be.
The sport is loaded with talent, from the U.S. national team and the professional league to hundreds of intercollegiate clubs. There are so many young, strong women playing the game. Programs are popping up everywhere.
Why is lacrosse important to you?
Regardless of who plays it, I am grateful to the Creator for giving lacrosse to Native Americans, who, in turn, have shared it with everyone else.
Playing lacrosse at Syracuse, on Native land, was a huge honor for my teammates and me because it reflected the University's partnership with the Haudenosaunee. I'll never forget coaching the Under-19 Haudenosaunee women's national team in 2019. It was an opportunity to pay homage to the relationships I have created with the Haudenosaunee and to celebrate the game's rich origins.
I thoroughly love lacrosse and am committed to doing whatever I can to make it better. That begins with making it accessible to everyone.
By Rob Enslin. Originally published in Syracuse Stories.