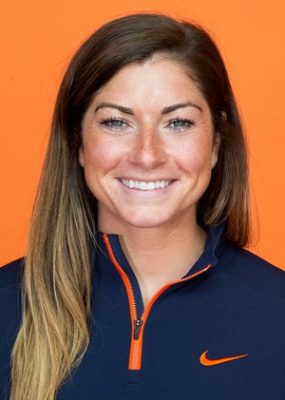 Four-time All-American Kayla Treanor '16 has been named the new head coach of the Syracuse Orange women's lacrosse team, replacing Gary Gait after he was named men's lacrosse head coach. She has a bachelor's degree from the School of Education in selected studies in education.
After starring for the Orange from 2013-16, Treanor started her coaching career at Harvard, where she served as an assistant for former Orange head coach Lisa Miller for one year. She joined the coaching staff at Boston College in 2017. In her four seasons with the Eagles, Boston College advanced to the championship game three times (2020 season cancelled due to Covid-19 pandemic) and claimed the national championship in 2021. Under her tutelage, two Eagles, Sam Apuzzo and Charlotte North, earned the Tewaaraton Award as Boston College ranked among the top offenses in the nation.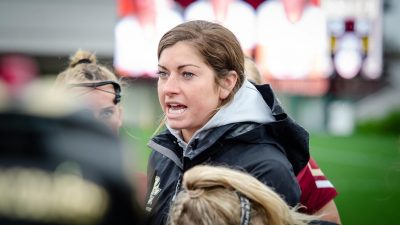 Treanor led the Orange to four consecutive appearances at Championship Weekend from 2013-16 and a spot in the 2014 national championship game. She is the only player in program history to earn IWLCA first-team All-America honors in each of her four seasons. Treanor was a three-time finalist for the Tewaaraton Award and Honda Award and earned the IWLCA Attacker of the Year Award in three consecutive seasons (2014-16). In addition, she was the ACC Offensive Player of the Year in 2014, 2015 and 2016 and earned a spot on the NCAA All-Tournament Team in each of her four seasons.
In addition to her success at Syracuse, Treanor has excelled on the international stage for Team USA. She helped the U.S. take home gold at the 2017 Federation of International Lacrosse (FIL) Women's World Cup. Treanor amassed 43 points on 24 goals and 19 assists – all team highs – in the tournament, which included a record-setting 12-point performance against England in pool play. She will take part in a training camp with Team USA June 29-July 1 in preparation for next summer's World Championship.