Hemalathaa K.Y. is a first-year Instructional Design, Development, and Evaluation doctoral student from India. In this interview, she shares her reasons for studying IDDE and how she applies her background in electronics and computer science toward evolving instructional design opportunities, especially as learning communities emerge from the coronavirus pandemic.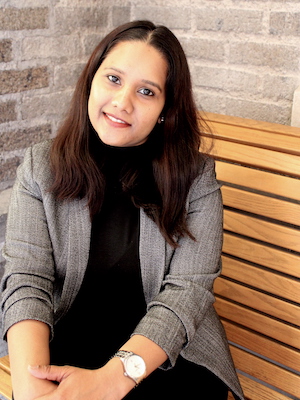 What motivated you to study Instructional Design, Development, and Evaluation (IDDE)?
I've always enjoyed keenly observing ways in which instruction is delivered and the impact it has on learners.
In India, I worked with three international baccalaureate schools using technology and instructional design to reach different stakeholders. I created whole class experiences for meaningful instructional, collaborative, and reflective moments, employing an inquiry-based approach. Whether I was a physics facilitator or a college advisor, I aimed to design learning experiences that would result in the acquisition and application of the intended knowledge, skills, and attitudes by learners.
I also visited universities around the world and noticed how the path of instructional design was evolving in primary, secondary, and tertiary education. My training in electronics, computer science, and education, as well as my professional career experience, have helped me better understand how we design learning experiences to solve real-world instructional design barriers in organizations and institutions. All this background motivated me to pursue a Ph.D. in instructional design.
Why did you choose to study at Syracuse University?
I wanted a program relevant to my instructional design career rather than an EdTech or EdPsych program. While reading the Syracuse University IDDE Student Handbook, I knew this program was for me. During the application process, I received support from faculty, staff, and Ph.D. peers. One of them was Yuri Pavlov, who shared his lived experiences in the program.
Another predefining factor for me was studying at an R1 Doctoral University with motivating and supportive faculty members and peers. Receiving an SU fellowship changed my life in leaps and bounds. Being the first woman in my family to study abroad has been truly one of the best episodes of my life.
What has been your experience so far in the program?
Being a risk taker has been the theme of my fellowship life for the past few months. I successfully completed five thoroughly enjoyable courses in the fall semester and Winterlude. Every course kindled the inquirer in me to deeply understand and question the underlying knowledge and theoretical concepts while simultaneously applying them in the real world.
What are your current ideas about your future?
As a woman of letters, I want to grow into an expert in the field and learn to bridge the gap between instructional design pedagogy and practice. I want to be identified as an architect of learning experiences who can bring research-driven solutions to numerous instructional design interventions in academia and other fields.
The rapidly changing learning landscape demands instructional design intervention in many ways. The pandemic has created a change in thinking in the way teaching, learning, and work/task accomplishment are taking place today, and that has created a great demand for instructional design experts across numerous fields.
I am waiting to catch sight of the social impact I can make with all the knowledge and skills to be gained from this program and to broaden my career opportunities.
Learn more about School of Education doctoral programs and certificates of advanced study, including instructional design programs.