Where is hip-hop in school music education, asks David Knapp?
Music education should stress the vernacular—that is, reflect the music language of students—says Knapp, assistant professor of music education in the School of Education and the Setnor School of Music in the College of Visual and Performing Arts, who uses hip-hop, rock and steel drums in his efforts to reach more students.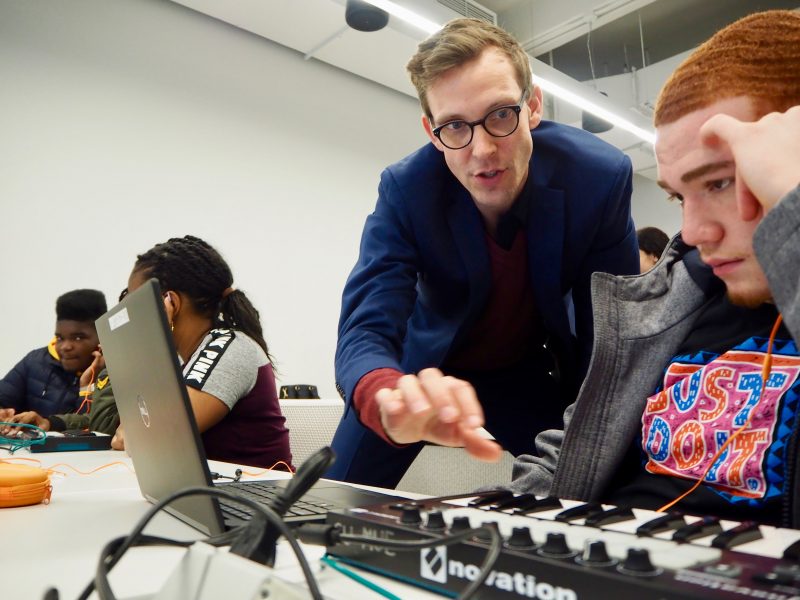 "Hip-hop is the No. 1 musical genre in the United States and the world. It also represents a powerful and important segment of American cultural history. Yet, it is essentially absent from school music education," says Knapp. "Along with others in the field, I am trying to articulate a vision for music education that includes hip-hop on its own terms."
To that end, Knapp facilitated a workshop in the Syracuse University Early Scholars Series, "Hip-Hop and American Life," at the Fisher Center in New York City late last year. Educators, producers and emcees worked with students from lower Manhattan's Leadership and Public Service High School, who broke into small groups to compose their own verses and accompanying beats. They were introduced to Ableton Live software, the industry's standard tool for composing, recording and arranging beats, also used by DJ's and mixmasters.
The program began by connecting a discussion of misogyny to the Queen Latifah track "U.N.I.T.Y." and inviting students to think of something they've observed in their own lives.
"The results were amazing," Knapp says. "I later heard the school administration and teachers remark that they had never seen some of these students work so hard on a project, that students who had not lifted their heads off the desk in English class all year were spending hours focused on writing their verses."
Knapp emphasizes that music education must understand the cultural stories that music tells. His participation in the New York City workshop was part of his research into music teaching models that allow greater equity and access for student participation.
Approximately 24 percent of U.S. high school students take a music class, with racial minorities and lower socioeconomic status students even more underrepresented. Knapp says he's exploring the theory that "if we create more diverse vernacular music opportunities in schools, meaning music that reflects the musical language of students, more students will enroll in music classes."
At Leon High School in Tallahassee, Florida, steel drum instructor Elizabeth DeLamater introduced Knapp to the instrument and its cultural importance.
"The music was important, but equally important were the stories the music told, the music's connection to the people and places in Trinidad," Knapp says. "Though I had been heavily involved in music throughout all my schooling, I had never experienced this kind of thick narrative within music education."
Knapp started his teaching career as director of the steel band at Leon High School. He received a Ph.D. in music education from Florida State University in 2012 and has used rock bands to study music's effect on homeless and immigrant populations. He remains a professional steel band performer whose book, "Introduction to Steel Band," was published in 2009.
But in 2012 jobs were hard to find for someone with this eclectic background, so Knapp decided to take his interests to the United Arab Emirates. He taught high school and became an assistant professor of music education at the Emirates College for Advanced Education in Abu Dhabi.
His most memorable student was a granddaughter of Yemen's deposed leader, Ali Abdullah Saleh, to whom he taught guitar. Since she wore considerably more modest hijab than the other girls, Knapp says, he was careful to avoid the professional touch typically used to teach guitar fingerings and posture.
"She was a delightful student and a Taylor Swift fan, so apart from her prominent last name, she fit right in."
Knapp's interest in vernacular music education parallels his work in community music. They share "the same underlying philosophy of developing music education to empower diverse communities," he says.
Shortly after arriving at Syracuse University in 2015, he learned of the Catholic Youth Organization's work with the city's large refugee population. He began volunteering to help refugee students with their schoolwork, and over several years laid the framework for the New American All-Stars, a rock band that's the hallmark of his Music in the Community program.
The band—with members from Afghanistan, Congo, Jordan, Rwanda, Sri Lanka and Syria—celebrates its second anniversary in February. The performers write songs that tell their personal stories, several of which have been recorded. And the band is filming a music video for its lead singer's song "I'll Come Back for You."
Knapp's first descriptive article about the band will appear in School Music News, and this semester he will collect qualitative data for an article in the International Journal of Community Music to be presented at its biannual conference in Helsinki in August. Last year he co-authored "The Shelter Band: Homelessness, social support and self-esteem in a community music partnership," also in the International Journal of Community Music. Rock band members included homeless shelter residents and university music education students in Florida. Qualitative data showed band participants demonstrated improved perceptions of social support and self-esteem.
With his Syracuse University students, Knapp has formed the Syracuse All Steel Percussion Orchestra (SASPO). Its musical styles include calypso, jazz, rock and hip-hop, a range for pan that Knapp favors. The ensemble performs publicly during the academic year, a recent performance late last year featured internationally renowned steel pan artist Victor Provost.
When he finds any free time from these musical passions, Knapp indulges his interest as a player and spectator of e-sports, particularly StarCraft II. He hopes for a few hours each week to watch his favorite players compete in South Korea's Global StarCraft II League.