Music educator Evan Wichman '12 left his first school teaching role having designed a choral program from scratch and established a competitive a cappella group. But when asked how much his life resembles the TV show Glee, he laughs. "Well, we didn't sing 'Blurred Lines,' and we didn't do a student production of Rocky Horror Picture Show," he says of his seven-year role at Maspeth High School in New York City.
"I don't mean to discount Glee," Wichman continues, "but there was a little bit of a diversity problem in the show. Just a little bit." His Maspeth students, he says, were much more diverse. Primarily from immigrant families, they hailed from Colombia, the Dominican Republic, Ecuador, Mexico, Peru, and Puerto Rico. Others spoke Polish at home.
"Queens was fascinating," says the teacher, who dreamed of landing a role at an urban school while pursuing a School of Education bachelor's degree in music teacher education.
A Full Circle Moment
Established in 2011, Maspeth teaches the "classics." Students learn Latin and enroll in an arts course for all four years. "The focus is to develop oratory and debate skills," Wichman explains. When he joined Maspeth in 2014, the school did not have a choir program, so he mapped out his own curriculum.
With the arts at the core, choir was sequenced and taught individually by grade, not as an elective. "This allowed me to start in ninth grade with reading music fundamentals and advance in technique and theory as each grade progressed," says Wichman, who grew the program to the point where he was overseeing afterschool ensembles and travel performances.
One highlight was when the Syracuse University Singers, Setnor School of Music's flagship choral ensemble, performed a combined concert. "That was a full circle moment," says Wichman, on witnessing his former professor, John F. Warren, lead a lesson.
"Evan's students were very responsive and very open. They had a lot of spirit," says Warren, Professor of Music and Director of Choral Activities. "Evan's an eager learner. His students reflected that and were eager to learn."
Warren says he knew Wichman would make a great teacher. "I remember he had a great balance in his teaching," he says, recalling his ability to command a class while still expressing joy. "He's so energetic and so fun, but still there was no doubt who was in charge."
Choosing Repertoire
"Choosing repertoire is not easy," he adds. "If it's easy, you're not working hard enough."
To build a culturally relevant music program, Wichman first asks himself "who are the students I am serving?" He then looks for pieces students can connect to—selections from their cultures, in native languages and styles. Not only does that approach teach them about their culture and feel pride, he says, it can also center the students as experts so others learn from them.
It takes time to compile representative works, but cultural exploration through music repertoire can have a big impact, he adds.
Wichman credits his professors for being cognizant of cultural representation. He specifically references a book about Brazilian music lessons in a middle school context called Travel On and On: Interdisciplinary Lessons on the Music of World Cultures by Elisa Macedo Dekaney, Associate Dean of Research, Graduate Studies, and Internationalization in the College of Visual Performing Arts and Professor of Music Education, and Deborah Alane Cunningham '94, G'04, a School of Education doctoral student.
At Maspeth, Wichman used materials he gathered while on a 2018 summer Fulbright-Hays Fellowship in Ecuador. "I had many Ecuadorian students who were really excited for me to go," he says. When he returned, he planned a concert with songs in styles specific to Ecuador, including one piece in Quichua, the language of indigenous peoples of the Andes.
"One of my students remembered growing up hearing their neighbor speak that language," Wichman recalls. "She remembered enough to share those reflections with her classmates. So, a song in this language that none of us speak fluently came to life."
"Choosing repertoire is not easy," he adds. "If it's easy, you're not working hard enough."
Empowering to Learn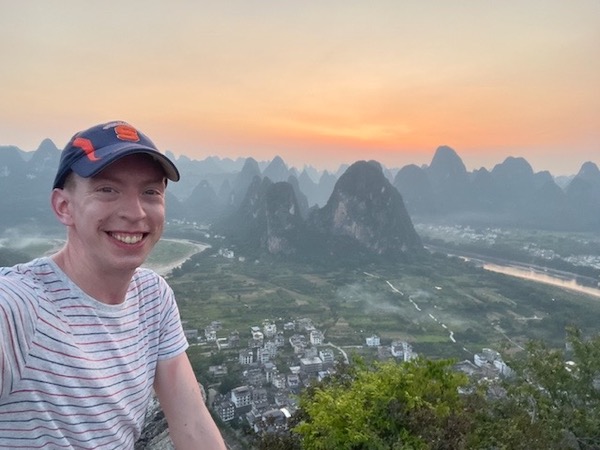 Wichman says the monthlong Fulbright-Hays program was a life changing experience. One of 16 US educators accepted, he traveled throughout Ecuador, learning about its different cultures, listening to traditional music—such as Pasillo, a song style found in Ecuador and Colombia—and even visiting the Galapagos Islands.
He found it empowering to experience indigenous culture firsthand: "There's so much erasure of it in the United States, so to have people celebrate it was eye opening."
During his visit, Dr. Gustavo Lovato—former director of La Casa de la Music in Quito, Ecuador, and organizer of the Pasillo concert—gifted Wichman books of sheet music, which traveled with him to his current teaching position at a government school in China.
Four years on, Wichman reciprocated the gift, sending back to Dr. Lovato a video of his Chinese students performing a traditional Ecuadorian song. "It's not as if I'm in a vanguard. It's just that my students in China might not stumble across this type of music on their own accord."
Currently at the half-way point of a two-year contract as an International Baccalaureate music teacher at Beijing National Day School, Wichman plans to spend two years in China and then try a stint somewhere else.
The biggest challenge in his first year was not with teaching but living through China's zero tolerance approach to COVID-19: "I'm in the right place, just at the wrong time."
Feeling That Energy
"I really like this, seeing the imagination and energy of children. I loved feeling that energy."
Wichman's choice to pursue music education was pragmatic: "In high school, I asked myself: 'What do I like to do?' and I really liked music." Taking a teaching degree combined his love of singing with a clear career path, and he settled on Syracuse University because it offered the best variety of music learning and performance. "I could be in marching band and still do the opera workshop and perform," he says. "There's a lot of flexibility."
He also came to learn the School of Education's music education program greatly values diversity of interests.
His former professor Kelly Chandler-Olcott, Interim Dean and Laura J. & L. Douglas Meredith Professor for Teaching Excellence, says Wichman was among the most memorable of her students in more than 25 years of teaching. "Evan was always well-prepared, engaged, and he possessed a keen and self-deprecating sense of humor," she says. "He has great future promise."
One funny moment—during a Foundations of Music Education course immersion visit to the Bernice M. Wright Child Development Center on the Syracuse University campus—reinforced his decision to teach music.
The music education students were asked to teach 30-minutes of music instruction each week to three- and four-year-olds. One day Wichman was leading an exercise singing "Chop, Chop, Chippity Chop," a children's song about making soup. "We sang 'chop chop, chippity chop, we cut off the bottom, we cut off the top, and what we have left, we put in the pot,'" he recalls. "Next you ask the students, 'what do you want to put in your soup?' And they suggest different things."
Wichman laughs, "One of the students said they wanted cheese. Pretending, I took up my cleaver with my hand and said to everybody, 'let's cut the cheese!'" Uh-oh. Giggles erupted: "This was when it sank in … I really like this, seeing the imagination and energy of children. I loved feeling that energy."
Restorative Properties
Finding new ways to help students in social and emotional areas of need, fascinates Wichman. It is why he recently began a three-year online master's program in Education Futures through the University of Edinburgh in Scotland. The program is designed to respond to the need for creative, critical, and experimental thinking across education levels and amongst communities, industries, and organizations.
Mindfulness became a surprising component of Wichman's pedagogy while teaching in New York City, and its usefulness surfaced again in China. The concept was first introduced to him during a Carnegie Hall workshop he attended with other New York City music educators. One Saturday, an elementary music teacher presented on mindful games, pulling out a box of cards featuring different activities.
"My initial reaction was, this has no purpose in my classroom," says Wichman, but he came to adapt the exercises to suit his students' needs. For example, a card with a breathing exercise helps his students to better conceptualize breathing through singing. "The first time I tried it, I was observed by my assistant principal at Maspeth," he recalls. "He found it amazing."
When he moved to China, Wichman did not anticipate these modified exercises would be useful outside of chorus. But a month into the school year at a faculty meeting, discussion centered around how stressed students were. The Chinese school day is quite long, he says, and extended tutoring sessions continue into the evenings.
Music practices and appreciation of the arts, Wichman notes, make up critical components of a balanced life. "Singing, releases endorphins," he observes. "Singing makes you feel good because it's controlled exhalation. When you're meditating, one of the things you focus on is a slow inhale and a long, controlled exhale. Singing is fundamentally a controlled exhale."
"This is why singing has such restorative properties."
By Ashley Kang '04, G'11 (a proud alumna of the M.S. in Higher Education program)
Learn more about the School of Education's B.Mus. in Music Education (PreK-Grade 12) or contact us at SOEadmissions@syr.edu.