Eva Williams G'00, Principal of Van Duyn Elementary School in the Syracuse City School District, will be the 2022 Syracuse University School of Education Convocation Speaker. Convocation takes place on May 14 at 12:30 p.m. in the Manley Field House, Comstock Avenue. A reception will follow.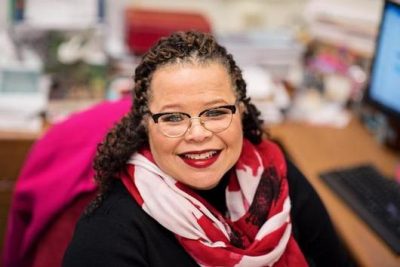 "Eva Williams' ability to bring out the best in her students and her colleagues is legendary in this community," says Kelly Chandler-Olcott, Interim Dean, School of Education. "I can't think of anyone better equipped to help us celebrate our students' accomplishments and inspire us to work collaboratively for change."
"Eva's leadership and guidance has modeled for so many of us how to walk in both darkness and light, self-assured steps always moving forward despite the unknown," says Dr. Reba Y. Hodge '01, G'16, Vice Principal, Van Duyn Elementary School. "Her support for and faith in the people around her is remarkable. She exemplifies excellence and magic in the real world."
A 2000 graduate of the School of Education's M.S. in Counselor Education program, Williams was named the 2021 New York State Elementary Principal of the Year by the School Administrators Association of New York State (SAANYS). She was chosen for her commitment to educational excellence, her dedication to meeting the academic and social needs of her diverse community of students, and her connections with staff, families, and the greater Syracuse community.
In its announcement, SAANYS noted that since becoming Van Duyn Principal in 2013, Williams has implemented frequent two-way communication with parents; cultural and climate practices, including restorative circles; incentives for students to actively engage in learning, such as CHAMPS (courageous, hardworking, achievers, motivated, persistent, scholarly) incentives for individuals and classrooms; and opportunities for families to learn strategies for helping children at home.
Also a graduate of SUNY Binghamton and SUNY Oswego, Williams has made it her mission to increase student academic achievement. Under her leadership, Van Duyn moved from a school in New York State "Priority Status" to "In Good Standing" in five years. Her school also saw the greatest increase districtwide in ELA and math scores on the NYS assessments for two consecutive years. Additionally, chronic and referable behaviors decreased from more than 300 in 2012-2013 to zero since 2016.