Jersey Cosantino (Cultural Foundations of Education), Katie Elizabeth Ducett (Special Education), Waleed Raja (Mathematics Education), and Claudine-Lonjé Williams (Higher Education) are School of Education doctoral students among 31 teaching assistants recognized by the Graduate School at Syracuse University for their outstanding work.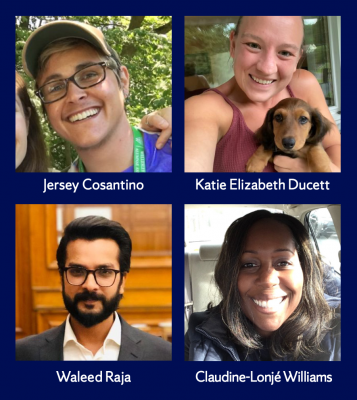 This is the 35th year the TA awards program has been conducted. The awards are presented by the Graduate School to recognize graduate students throughout the University whose work as teaching assistants has made distinguished contributions to the educational experience.
The honors are presented for excellence in all the dimensions where teaching assistants serve, such as their work as classroom teachers, laboratory or studio instructors, recitation or discussion section leaders, or in roles assisting faculty members who teach high-enrollment courses.
Honorees are selected based on letters of nomination and additional recommendations from faculty members, endorsements of department chairs, positive academic standing, and letters of support from students in their courses.