Ronald Ditchek, a junior music education major in the Syracuse University College of Visual and Performing Arts and School of Education, is among 35 students named 2022-2023 Remembrance Scholars by the Remembrance Scholar Selection Committee.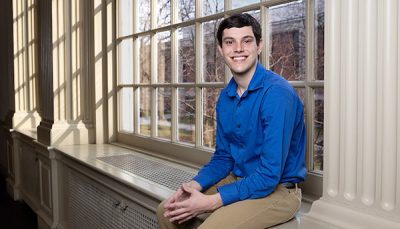 The scholarships, now in their 33rd year, were founded as a tribute to—and means of remembering—the 35 students who were killed in the Dec. 21, 1988, bombing of Pan Am Flight 103 over Lockerbie, Scotland. Those students, who were returning from a semester of study in London and Florence, were among the 270 people who perished in the bombing.
The scholarships are funded through an endowment supported by gifts from alumni, friends, parents, and corporations. Significant support for the Remembrance Scholarships is provided by Jean Thompson '66 and Syracuse University Life Trustee Richard L. Thompson G'67 in memory of Jean Taylor Phelan Terry '43 and John F. Phelan, Jean Thompson's parents; by Board of Trustees Chairman Emeritus Steven Barnes '82 and Deborah Barnes; and by the Fred L. Emerson Foundation.
Remembrance Scholars are chosen in their junior year through a rigorous, competitive process. Applicants submitted an essay and a reflective response in multimedia, artistic, musical, or written format as part of a comprehensive application. Finalists were interviewed by members of the selection committee, composed of University faculty, staff, and current Remembrance Scholars. The $5,000 scholarships are awarded on the basis of scholarship, leadership, and service to the community.
Read more about the 2022-2023 Remembrance Scholarships.
In this Forever Orange profile, Ditchek describes his Syracuse experience as, "Too good to be true." "School spirit attracted me to attend Syracuse University. When I was in the process of choosing schools, I wanted to gain an education from a school that everyone was happy to be a part of," he adds.
A truly engaged student, Ditchek is a member of Otto Tunes, a tenor-bass acapella group; OttoTHON, a student-run philanthropy organization that helps provide support for children and families who receive care at Upstate Golisano Children's Hospital; and Syracuse Welcome.