As one of the oldest student affairs programs in the country, higher education at Syracuse University has continued to evolve to meet the needs of a changing student population and higher education environment.
"There's this deep legacy of representing those who have historically not been valued or recognized. For decades, we have prepared educators who embrace their roles as advocates, champions, and caring and engaged advisors for students navigating college" says Cathy Engstrom, associate professor of higher education. "The theme of preparing college/university leaders who are and deeply dedicated to promoting conditions for student success and identifying and dismantling barriers has fueled our work from the very beginning of the program's history."
Dawn Johnson, associate professor and chair of the department of Higher Education, says that the department's research and teaching cuts across current issues such as meaningful equity and inclusion for people from marginalized and minoritized backgrounds, and servicing and supporting the mental health issues that students are coping with.
"We strive to develop educators and practitioners who will be student-centered advocates in building and maintaining equitable campus communities," she says. "This includes developing social change agents who exhibit a sustained commitment to support conditions for student access and success, particularly for those from underrepresented and marginalized groups. This focus requires graduates who are self-reflective, including about their own privilege and power, are life-long learners, and authentic companions with students in their educational journey."
Johnson's research focus is women of color in STEM, and she serves as a lead faculty member for the Women in Science and Engineering (WiSE) Women of Color in STEM program. "The program is grounded in what my research has shown to be critical for their success: fostering a sense of belonging, building community, mentoring, and developing interpersonal, academic, and professional excellence," she says. "Our approach is centered on the praxis of intersectionality in that we attend to students' multiple and intersecting identities, while also helping them navigate the structural barriers for inclusion as minoritized women in predominantly white and male learning environments."
The work of Johnson reflects the department's mission of preparing graduates to be active participants in the enhancement of learning, development, and achievement of all college students.
Engstrom says that now is more critical then ever to promote pluralistic college/university environments with academic and student affairs working in partnership because these efforts align with how students actually experience college. "Students of today, and I suspect more so in the future, want and need personalized college environments. It is the core relationships they developed during college that will prepare them for their futures, not the number of programs or activities they attended. We emphasize that creating opportunities for developing sustained relationships should drive their work, including collaborative partnerships across campus and in our communities to build webs of support and more meaningful learning opportunities for students." She also notes that question of "how do we, as administrative leaders, assure equitable access to these learning experiences is central to their world."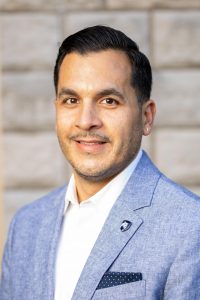 The department's newest faculty member, Associate Professor David Pérez II, returned to Syracuse to explore factors that contribute to student equity and success.
Pérez, from Brooklyn, attended Vanderbilt University as part of one of the first Posse Foundation cohorts in the country, receiving a bachelor's and master's before completing a Ph.D. at Penn State. The Posse Foundation is a leadership development program that brings talented students from diverse backgrounds to top public and private universities by providing a merit-based scholarship and campus support system, which without, Pérez says he likely wouldn't have completed his studies.
He was moved by the profound impact campus support and mentorship can have on student success and worked in residence life at SU and NYU, which informed his pedagogy at Miami University. At Syracuse, he will extend his work in understanding factors that lead to positive outcomes for underrepresented students by focusing on how aspiring researchers and practitioners are trained to meet the needs of diverse learners.
There is limited research on this topic, and what Pérez has seen typically focuses on deficit lenses around financial hardships, negative family and community factors, and the assumption that education is not a priority. "I ask different questions," says Pérez, "instead of asking what prevented a student from going to college, I ask 'in what ways did their parents nurture a student's educational aspirations.'" He adds, "If I can understand that, we can duplicate these conditions." Being a Posse Scholar informed his research agenda.
His research goals around young Latino and Black men are two-fold; first to debunk myths about stereotypes, to show that they're motivated and can succeed despite hardships and, second, to point out factors that contributed to their success. Building on The National Study on Latino Male Achievement (TNSLMA), Pérez initiated a longitudinal study to examine how exposing aspiring scholars and practitioners to anti-deficit research on student success enhances their praxes.
"How do students establish meaningful connections with faculty and administration at a college campus, what is their approach, is there implicit bias, and if we know this works for these populations, if we can understand what contributed to their success, we can understand how we can duplicate those successes."
This mission and mind-set of the department continues to produce leaders in the fields.
Higher Education alumnus Henoc Preciado G'13 says his experience as a student leader at Cal State Fullerton led him to pursue a graduate degree at Syracuse. "I always enjoyed working with my peers to impact our campus environment in positive ways," says Preciado. "When I learned that I could make a career of it, I decided to pursue graduate studies in order to be equipped with the tools and skills to do so."
Faculty support of Preciado's interests and professional goals helped guide him through his graduate work. He recalls turning to Professor Johnson for mentorship and support. "Dawn's classes were always a lot of fun. I always looked forward to them because of the positive learning environment that she fostered."
Preciado is also grateful for Professor Engstrom, who was the department chair during his time at Syracuse. "From the moment I applied to the University up to present day, Cathy continues to be source of inspiration and guidance." He adds, "Cathy and I had many one-on-one conversations, where she helped me tremendously with the transition from undergraduate to graduate studies."
After graduation, Preciado chose to return to California, where he is now the director of the Glazer Family Dreamers Resource Center at Cal State LA, which was formed to support the success of undocumented students and students from mixed-status families. The Center's work focuses on ensuring that students have equitable opportunities that make their college experience a rewarding one.
"In today's political climate, undocumented individuals face attacks on a regular basis, and we aim to ensure that our University is one in which our undocumented students feel safe and embraced," says Preciado.
Preciado points to the Dreamers Graduate Recognition Ceremony, a celebration for graduating undocumented students, as an example of a defining early career moment. "It is at this ceremony where I am always reminded of the importance of a college education for some of our most vulnerable and marginalized students: that a college education is not only transforming the students' lives but is transforming families and entire communities." Preciado notes, "This is why this work is so important: because it allows us to change lives."
This article originally appeared in the 2019 issue of Education Exchange Magazine