By Professor Ben Dotger
The drop-off spot for Bellevue Hospital in Manhattan is clogged with taxis and people moving steadily. To clear a path, ambulance drivers chirp their sirens. One of the nation's oldest hospitals, Bellevue's modern front entrance is a city-block-long glass atrium. Step inside though, and the atrium leads to a very old brick building—the original Bellevue.
Long associated with teaching doctors and nurses, the third floor of the modern hospital houses the state-of-the-art New York Simulation Center (NYSIM). On any given day, NYSIM supports a wide variety of medical simulations for New York University and City University of New York medical students. These simulations use standardized patients, mannequins, and an array of medical situations that approximate everything from mental health crises and dislocated shoulders, to appendectomies or the challenges of labor and delivery.
On this Friday afternoon—March 31, 2023—I'm not here for medical simulations. Instead, a cohort of students from Syracuse University's Martin J. Whitman School of Management will join me to engage in their first simulation. Part of the students' WhitmanNYC Study Away experience, this financial business ethics simulation is also a first for the School of Education's (SOE) Center for Experiential Pedagogy and Practice (CEPP).
A Trove of Common Situations
One year earlier, Erin Draper, Whitman School's Director of Experiential Programs, had introduced herself at CEPP's official launch. CEPP supports a variety of experiential learning opportunities, including clinical simulations. Derived from medical education's long-standing use of this teaching method, SOE has pioneered their use with teacher training and pre-professional and extended professional learning contexts.
"This is my favorite form of instruction. It is teaching that centers student voice, student data, and most importantly, teaching that fosters student-to-student dialogue."
—Professor Ben Dotger
As of spring 2023, SOE has supported more than 3,000 learners in 63 simulations, many helping future teachers, school leaders, and school counselors practice engaging with concerned parents, struggling students, or challenging colleagues. CEPP's launch provides room for expansion of simulations across the University, and Erin's introduction provided a natural segue to explore partnerships with the Whitman School.
After a few planning conversations, Erin and I settled on the idea of offering a simulation experience to the Whitman study away cohort, a group of marketing and finance majors interning in Manhattan. This meant designing CEPP's first business-focused simulation.
Following the design pathway of medical and prior SOE simulations, we scheduled two focus groups with Whitman alumnae in December 2022. Representing some of the top insurance, banking, and investment firms in the US, these seven alumnae listened carefully to how Erin and I described the experience we hoped to design. Encouragingly, they stepped right in, offering a trove of common situations in their respective fields that novices often struggle with. From those rich data, the first Whitman School financial business ethics simulation took shape, described by Erin as "a one-of-a-kind experiential learning opportunity designed to develop students' decision making, critical thinking, communication, and negotiation skills."
Ultimately About "Practice"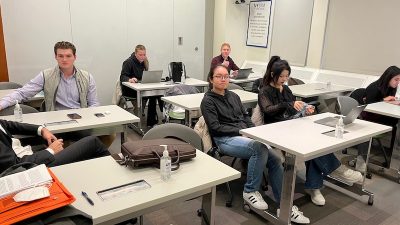 Back in Bellevue, I chat with Sean and Ginny, two NYSIM colleagues who will help me guide the students through their experience. As they sign in on NYSIM iPads in the lobby, Sean, Ginny, and I can tell they are nervous from the pitch and cadence of their voices carrying down the hall.
After introducing myself, I guide the students to a NYSIM classroom. I briefly overview the concept of a simulation, and I explain why they—marketing and finance students—are in a medical simulation facility. I also tell them this experience is ultimately about "practice".
Having divided the students into threes, the first trio accompanies me down to NYSIM's east wing. Situating each in front of their own computer, I give them some basic log-in instructions for NYSIM's SimCapture platform and a few last-minute reminders. They have all read their Learner Protocol. I remind them that in that document, they've been given enough information to realistically situate themselves in the simulation room they are about to enter.
They already know that in this simulation, they are brand new employees of "Eichberg Wealth Management," and that their primary responsibilities for the first six days at EWM have been to focus on basic financial portfolio management tasks, including forecasting, "what-if" scenarios, fund transfers, and client budgeting. The Learner Protocol scenario situates them in their office on a Friday afternoon when a knock sounds at their office door and a new EWM colleague enters, ostensibly to chit-chat, but in reality to pressure them into an unethical situation.
They're Breathing Easier
The students glance over their shoulders nervously. I remind them that what they've gleaned from the Learner Protocol is all I'm going to share with them. What they do and say in the simulation is entirely up to them. Then, I instruct them to enter the rooms and have a seat.
"Our partnership in the financial ethics SIM was wonderfully collaborative. It was a great opportunity for interns to navigate a challenging scenario with a standardized, but realistic, individual."
—Virginia Drda
Once they are seated, I run around the corner, to the "actor's side" of the facility. There, Sean and Ginny are huddled with the actors, offering last-minute reminders. Sean has cameras turned on in each of the three simulation rooms, and Ginny gives actors the cue. They knock on their room doors simultaneously, step in, and you can hear early snippets of the interactions between each student and their standardized EWM colleague.
About 12 minutes later, the three students emerge, clearly relieved. Their shoulders have relaxed, and they're breathing easier. Each promises me they won't share the challenges of the situation with their other peers—who are waiting in the NYSIM classroom—until they too have a chance to experience the simulation for themselves.
Over the next hour, all nine students engage in this same process of logging-in, interacting with the actors, and double-checking their video data. As we wrap-up late on a Friday afternoon, I remind them of their homework: watch your simulation video and choose segments to share with your peers.
There, the Magic Happens
The next morning, I meet Dave Major, the point-person for SU's Fisher Center. Dave gives me a quick tour of this SU facility, describing for me the cohorts of students who regularly use this space while studying in NYC. As we talk, the Whitman students arrive.
Over the next 90 minutes, I guide a review of yesterday's simulation, a whole group debrief that centers the students and their data. One-by-one, they come to the front of the room and tell me what segment they want to show. Logging in to SimCapture, I access the respective video, locate the time stamp, and get out of the way.
From there, the magic happens. Each student is in charge of their own data, and they start talking about what they heard in the simulation, how they responded, what decisions they made, and what challenges emerged in the moment. Standing to the side, I know their peers are paying close attention, because every couple of minutes one will exclaim, "Oh, I had that same actor!" or, "Wait, what did she just ask you?!"
During the remainder of the morning, we review many excerpts and ultimately center on the decision-making and professional communication learning objectives that Erin and I had mapped out months ago. As we talked, performance patterns emerge across the nine students' excerpts. As these patterns emerge, so do students' questions to each other. I caught myself smiling when I heard one student ask another, "So, I have a question for you guys. When my actor said that, I responded differently. So, why did you make that decision?"
Centering Student Voice
Questions such as this—from one student to another—represent one of the objectives of the process. In a way the actual simulation is not the key; instead, it is the student-centered meaning-making that happens in group debriefs. This is my favorite form of instruction. It is teaching that centers student voice, student data, and most importantly, teaching that fosters student-to-student dialogue.
A bit later, I wrap-up the whole-group debrief with a whole-hearted "thank you" to the Whitman School students for engaging in the simulation and debriefing. Walking the few blocks to Penn Station to catch the train back to Syracuse, I reflect on how easy this learning experience was to design and implement. Utilizing 17 years' experience with simulations in the School of Education, the input of Whitman School alumnae, and the expertise of NYSIM, Erin, Sean, Ginny, and I were able to bridge this teaching concept to yet another SU cohort.
On the train journey back, as I type up these notes, I'm reflect on how grateful I am to my new NYSIM colleagues—for their knowledge, hospitality, and their positive words about our collaboration:
"Our partnership in the financial ethics SIM was wonderfully collaborative. It was a great opportunity for interns to navigate a challenging scenario with a standardized, but realistic, individual," said Ginny (Virginia Drda, NYSIM SP Program Educator, Recruitment and Training). "It highlighted how effective simulation is for learning in any field—whether it be medicine, education, business, or indeed any with a human element."
"It was a pleasure working with Syracuse University on this financial business ethics simulation," said Sean (Sean Overstreet, NYSIM Senior Simulations Operations Associate). "Seeing our actors go from normally simulating patients to overly confident Wall Street employees was awe-inspiring! This great experience shows that the possibilities are endless with clinical simulations."