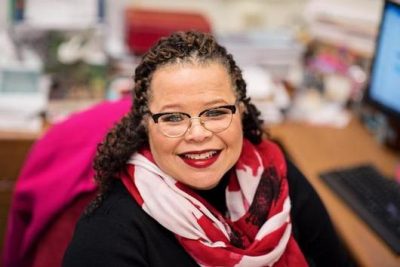 Eva Williams G'00 was named the New York State Principal of the Year by the School Administrators Association of New York State (SAANYS). Williams has been principal of Van Duyn Elementary in the Syracuse City School District for the past eight years, and is a graduate of the school counseling master's program. SAANYS selects their principal of the year for their commitment to excellence, dedication to meeting the academic and social needs of their students, and connections with staff, families and the greater community.
Jaime Alicea, superintendent of Syracuse City Schools, says that Williams has "long been committed to bridging the gap between home and school, creating connections between school staff, families and community organizations to ensure that the needs of each student are met. Her passion for supporting her students, families and staff is unparalleled."
---
Maddy Horridge '20 G'21 and fellow members of the Syracuse Orange Women's Rowing team talked to Cuse.com about her experience as a fifth-year student-athlete and student in the intercollegiate athletic advising and support C.A.S. program. With seasons cut short or cancelled in spring 2020, the NCAA granted many student-athletes an additional year of eligibility, allowing seniors to continue their studies into graduate school while still competing for the Orange. Horridge has used the time to gain more experience and skills in athletics beyond the student-athlete perspective, and broaden her opportunities after graduation.
"It's given me a different perspective on athletics which I would have never seen," she says. "Now with this degree, I can go into athletic administration or something related to that. I always wanted to keep the athletics side of me in my career, so this has been a nice opening into that. I am now pursuing opportunities in the business areas of athletics."
---
Arian Hernandez '01 was interviewed by FOX10 Phoenix for his project renovating his school's basketball courts. Hernandez, who is a resource teacher and basketball coach at Desert Valley Elementary School in Phoenix, AZ, has been leading virtual practices for his teams since the start of the school year. His players said they would love to have a new court once they returned to in-person learning and practice, so he cleaned up and repainted the school's basketball courts over five months of this school year. Hernandez earned a B.S. in inclusive elementary and special education from Syracuse University.
---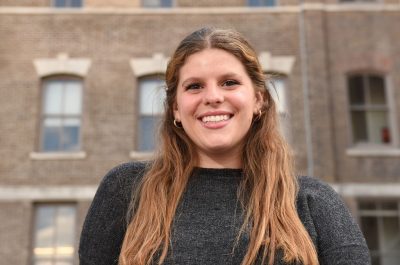 Two School of Education students were featured in the syracuse.com story "Syracuse University Class of '21 makes it to the finish line after 350,000 Covid tests, lots of banana bread." Lily Wolfer '21, an inclusive elementary and special education major who was also named a University Scholar and School of Education Marshal, talked about her student teaching experience in the midst of a pandemic. "I'll literally be ready for everything they throw at me," she says of her future in the classroom. Wolfer is active on campus, also serving as Vice President of Kappa Delta Pi this academic year, and serving as a student Make Your Mark ambassador.
Ellen Legg '20 G'21 also reflected on her experience with syracuse.com. Legg graduated last year with her bachelor's degree in inclusive early childhood special education, but the pandemic limited graduation activities. However, this month she earned her master's in literacy education, so she'll be able to celebrate both degrees this year; commencement for the class of 2020 is scheduled for September. While a grad student, she also worked for InclusiveU organizing social and campus events for students with intellectual and developmental disabilities.
---
The 44 Stars of Excellence celebration honors students and organizations across Syracuse University for their service, dedication to the student experience, and orange spirit. Justine Hastings '21, an English education major and president of the Student Association, was awarded the Irma Almirall-Padamsee La Fuerza Community Enhancement Award. This award is recognizes students who have used their energy, spirit and leadership in initiating and implementing actions that help our campus community go beyond tolerance to create dialogue among people from diverse cultural groups.