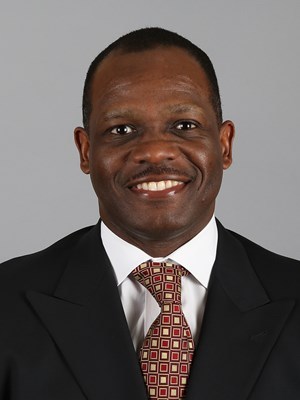 School of Education alumnus Reggie Terry '93, G'94, is among five former student-athletes who Syracuse Athletics will celebrate at the 56th annual LetterWinner of Distinction Dinner on Feb. 25, 2022, at Drumlins Country Club in Syracuse. The recognition is bestowed upon those who have left their mark on the Orange athletics program and who found success after graduation.
Currently Senior Associate Athletics Director at Boston College, Terry holds a B.A. in Social Studies Education (1993) and an M.S. in Special Education (1994). A leader by example in the classroom and on the field, Terry was an Orange linebacker from 1988 through 1993, and he continues to impact the lives of those around him in the world of intercollegiate athletics.
After playing on four bowl championship teams for the Orange, Terry stepped off the gridiron in 1993 to work as a graduate assistant and administrative supervisor in the Orange athletics department. He remained in that role until joining the Syracuse football staff as Director of Football Operations and Player Development in 2000. In 2006, he was promoted to Associate Athletics Director for Football Operations. In total, he participated in 12 bowl games as a player and an administrator, and he was a member of staff for four BIG EAST Championships.
In 2007, Terry moved to the National Football League as Arizona Cardinals' Director of Football Administration. During his five-year tenure in the southeast, Terry participated in team planning and operations for the Cardinals trip to Super Bowl XLIII.
In 2013 he returned to college athletics at Boston College as Associate Athletics Director for Football Player Personnel and Football Operations, before his promotion to his current role at the end of the 2020 football season.
A native of Hempstead, NY, Terry also worked as an intern with the New York Jets football operations department in 1997 before interning with the NFL's Management Council in 1998.
Other 2022 LetterWinner of Distinction honorees are Daniel D'Aniello '68 (gymnastics); John Lally '82 (football); Lynne (Della Pelle) Pascale '85, G'11 (rowing); and the late Carrie Urton McCaw '98 (volleyball). The honorees also will be recognized during the Syracuse men's basketball game against Duke on February 26.
The LetterWinner of Distinction reception will begin at 6 p.m. followed by dinner at 7 p.m. Ticket information will be available on January 24. For further information, call 'Cuse Athletics Fund Office at 315.443.1419.
If the event is postponed due to University COVID protocols, communication will be sent immediately. Although the Letterwinner of Distinction event is being held in spring 2022 due to the ongoing coronavirus pandemic, future plans for the event include a return to hosting the event in fall, beginning with fall 2022.