Syracuse University School of Education faculty, staff, students, and alumni were well-represented at the 2022 One University Awards held Friday, April 22, in Hendricks Chapel, with alumnus Jaime Alicea G'88 awarded the University's top recognition.
This annual event honors members of the University community who are making a difference in the world through academics, scholarship, creative work, and dedicated service.
Chancellor's Medal
The Chancellor's Medal is the University's highest honor. Awarded to individuals in honor of their trailblazing and extraordinary contributions to the University, scholarship, and society, it has been awarded to princes, philanthropists, and world and civic leaders. This year's recipient is Jaime Alicea G'88, Superintendent of the Syracuse City School District.
A graduate of the School of Education's foreign language education program, Alicea began his career in Syracuse city schools in 1983 as a teaching assistant at Seymour Elementary before becoming became a teacher. He worked at many schools throughout the district including as Principal of Seymour Elementary and Fowler High schools. Alicea will retire in June 2022.
Chancellor's Citation
First presented in 1979, this prestigious award recognizes those who have made invaluable contributions to the University through commitment to scholarship and research. Amanda Greenbacker-Mitchell '17—a B.Mus. in Music Education alumna—received a Chancellor's Citation for Excellence in Student Research. Greenbacker-Mitchell is currently a second-year master's degree student in wind and percussion studies in the Setnor School of Music in the College of Visual and Performing Arts. As an undergraduate, she received a Spector/Warren Fellowship for Future Educators.
Tolley Medal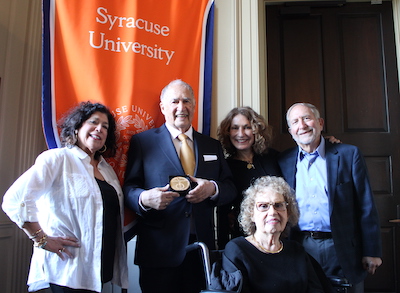 As one of the nation's preeminent leaders in higher education, William Pearson Tolley served as Chancellor for 27 years. The University established the Tolley Medal in 1966, in conjunction with the School of Education, to recognize strong scholarship and leadership in lifelong learning.
This year's recipient is literacy expert and advocate Allen Berger '57, G'66. Now a resident of Savannah, GA, Berger is Heckert Professor of Reading and Writing Emeritus at Miami University (Ohio). As an academic and scholar, Berger co-authored and co-edited 10 books and published more than 400 articles and chapters on reading and writing education. At Miami University, Berger began Teens for Literacy, a program that encourages inner-city students to promote literacy in their schools and communities.
Meredith Teaching Recognition Award for Continuing Excellence
In 2001, the Meredith Professorship Program was expanded to recognize teaching excellence by non-tenured faculty and adjunct and part-time instructors. Awards are given in two categories: Early Performance and Continuing Excellence. Professor Leela George received an award for Continuing Excellence. An Associate Teaching Professor in Educational Leadership, George also serves as the Program Coordinator for Certificate of Advanced Study in Educational Leadership and the Executive Director of the Study Council at Syracuse University.
2021-2022 Remembrance Scholars
Remembrance Scholars (35 SU seniors) and Lockerbie Scholars (two students from Lockerbie, Scotland, who study at Syracuse for one year) are one way that the University strives to fulfill its promise to remember all 270—and especially the 35 Syracuse students—killed in the bombing of Pan Am Flight 103.
Representing the School of Education:
Jared Khan-Bagley '22 (for Flight 103 victim Shannon Davis), an inclusive elementary and special education major from Ft. Lauderdale, FL.
Micayla MacDougall '22 (for Flight 103 victim Nicholas Vrenios), a music education major from Syracuse, NY.
2022 Commencement Marshals
Representing the School of Education:
Torian Clarke '22, a Social Studies Education major.
Shayla Walsh '22, an Inclusive Elementary and Special Education major and member of the Orange Cheer team.
2021 Emeriti Faculty
Beginning her career as a middle school teacher, Professor Emerita Kathleen Hinchman taught undergraduate and graduate classes in childhood and adolescent literacy. Her research explores youths' and teachers' perspectives toward literacy. She has published in multiple journals and co-authored or edited numerous texts, including Reconceptualizing the Literacies in Adolescents' Lives and Teaching Adolescents Who Struggle With Reading. She has served as President of the Central New York Reading Council and the Literacy Research Association.
Years of Service