Disability advocate and Syracuse University School of Education doctoral student Sara Jo Soldovieri '18, G'19, has contributed to a new, award-winning documentary that follows a couple's journey as they look to secure inclusive education for their disabled son.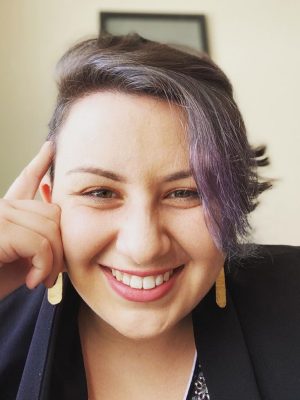 Forget Me Not: Inclusion in the Classroom (Cinema Libre Studio) is directed by Olivier Bernier. He turns the camera on himself and his wife once they learn that baby Emilio has been born with Down syndrome. The film follows the Berniers' journey as Emilio prepares to start school and as his parents attempt to secure his right to an inclusive education.
"As a director, this is not only a story I will be telling—this is a story I am living," says Olivier Bernier. "When I was a child, I didn't go to an inclusive school. I was never exposed to anyone with intellectual disabilities, and I was ill-prepared for my own son's arrival. I want to use this opportunity to make sure this never happens to anyone again."
The documentary won a Slamdance Grand Jury Prize and the Hernandez/Bayliee Prize for Triumph of the Human Spirit at the Middlebury New Filmmakers Festival. It was selected as an Opening Night Film for the Human Rights Watch Film Festival and was an official selection at the International Puerto Rican Heritage Film Festival, New Orleans Festival, Act Human Rights Film Festival, and Doc NYC Only in New York. The production crew included several young people with disabilities. 
Soldovieri enters the story after her first Syracuse University career, during which she received a bachelor's degree (2018) in Inclusive Elementary and Special Education and master's degree (2019) in Inclusive Special Education (Grades 7-12). She was the Manager of Inclusive Education Programming at the National Down Syndrome Society from 2017 to 2020. There, she assisted parents—including the Berniers—in developing and implementing fully inclusive individualized education plans (IEPs) for students with disabilities. 
Now back at Syracuse University to study for her doctorate, Soldovieri's research centers on students with intellectual disabilities and those with so-called "complex" support needs, as well as parental advocacy in public education, breaking down hierarchies within disability, and de-centering whiteness within education. As an educator, she assists with pre-service inclusive educator training within the School of Education.
In addition to Soldovieri, Forget Me Not talks to other disability experts and advocates such as the late Thomas Hehir, former Director of the US Department of Education's Office of Special Education Programs; Lori Podvesker, Director of Disability and Educational Policy, Include NYC; David H. Rose, Co-Creator of Universal Design for Learning; and Sue Swenson, President of Inclusion International and formerly Deputy and Acting Assistant Secretary, US Department of Education Office of Special Education and Rehabilitative Services (OSERS).