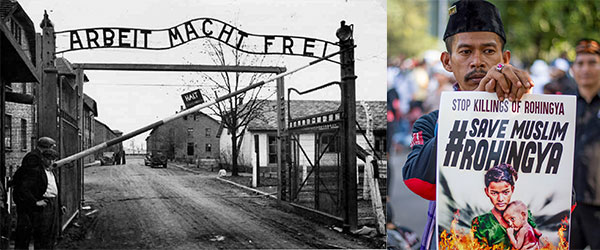 The School of Education has created a new minor in Atrocity Studies and the Practices of Social Justice that prepares students to be engaged citizens, advocates, scholars, and leaders in a changing global society.
This interdisciplinary minor, open to all Syracuse University undergraduate students, provides a background in the Holocaust, other global atrocities and human rights violations, and efforts to confront the past and transform the future. Partnerships and courses from across the College of Arts & Sciences and the University examine when, how, where, and why individuals and groups act as perpetrators, bystanders, and upstanders. Students will have the opportunity to study abroad in Central Europe; Strasbourg, France; or Santiago, Chile as a part of these courses.
"We are seeing increased activity from right-wing and extremist political parties across the globe, in Europe, Africa, Southeast Asia, Brazil, Canada, and the United States," says Julia White, assistant professor in the department of Teaching and Leadership and coordinator of the Atrocities Studies minor. "Along with this, systems and individuals are demonstrating discrimination and violence against marginalized people. By studying potential—and occurring—atrocities we are intentionally developing a world view that considers what part we can play in confronting injustice and disrupting systemic patterns of prejudice, discrimination, racism, antisemitism, and dehumanization that lead to the commission of atrocities."
The minor in Atrocity Studies and the Practices of Social Justice consists of 18 credit hours. There is one required course for the minor, HST 362, Nazi Germany and the Holocaust, so students currently enrolled in the course or plan to take the course should consider the minor. The other courses are chosen from a broad range offered across the university:
one course related to atrocities/genocides
two courses on challenging dehumanization
one course on education and social justice
one course related to an individualized internship or capstone project.
White thinks this interdisciplinary minor would be of interest to any student at Syracuse University who is interested in social justice and challenging oppression. "For example, students from Whitman who are committed to social change and entrepreneurship; Newhouse and VPA students who are interested in advancing social justice through media and the arts; Maxwell and Arts and Sciences students who are interested in justice, peace, security, stability, and domestic and international affairs in their many forms; Education students committed to teaching, leading, and engaging with schools and communities to confront and address injustices; Falk students committed to anti-oppressive social policies and practices; iSchool students interested in combatting oppression through information technology; and Architecture students committed to social justice through design."
Students interested in the minor in Atrocity Studies and the Practices of Social Justice can visit the School of Education website or contact Julia White at jmwhit02@syr.edu, 315.443.9321.