Christina J. Sisson has joined Syracuse University School of Education as an Assistant Teaching Professor of Music Education. A native of Tampa, FL, she received her bachelor's degree in music education from Florida State University and her Master of Music from Northern Arizona University, where she studied ethnomusicology before returning to FSU to earn a Ph.D. in Music Education.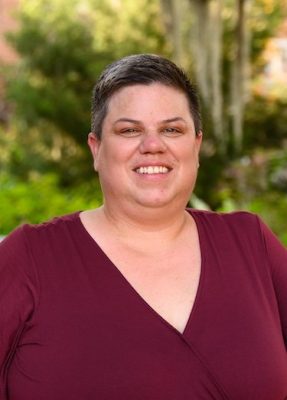 Before arriving in Syracuse, Sisson taught in public schools in Florida, Kansas, and Massachusetts, as well as in Kasese, Uganda. Her teaching experiences include middle and high school band, middle school steel pan, K-12 general music, and K-5 general education classes. In addition to teaching, Sisson has worked as a drum circle facilitator in Florida, where she brought hand drumming to people of all ages and abilities.
Sisson's research interests center around diversity, equity, and inclusion, with a focus on meeting the diverse needs of all students in the music classroom. Her article "Culturally Responsive Teaching as a Method for Teaching Students with Emotional/Behavioral Disorders in the Music Classroom" was published in Update: Applications of Research in Music Education (2021).
Additionally, Sisson has presented at state and regional conferences in Michigan, Arizona, and Florida on topics including elementary general music during the COVID-19 pandemic; African singing, drumming, and dance; and the history of US Southern Baptist church music.
Meet Professor Sisson
Hometown: Tampa, FL
Alma Mater: Florida State University and Northern Arizona University
Favorite Book: Hitchhiker's Guide to the Galaxy
Favorite TV/Film Series: Star Trek
Favorite Music Artist: Dave Matthews Band
Who Most Inspires You? My students have always been the most inspiring people in my life; they are the reason I am here.
What excites you most about joining Syracuse University?
I am most excited to teach subjects that I am passionate about to students who love to learn.
What inspired you to go into teaching, especially "teaching of teachers"?
After teaching general music in an alternative school for students with emotional and behavioral disorders and taking much longer than I should have to figure out what I was doing, I realized that there was a gap in my own knowledge regarding nontraditional approaches to teaching music and teaching music to students with special needs.
I was inspired by the positive affect music had on my students at this school, and I wanted to do what I could to help prepare teachers to work with students like these who most need music in their lives.
Describe your teaching philosophy …
My core values of dedication, compassion, and resilience are essential to every aspect of my career as an educator. Empowering students as learners and providing opportunities for teaching experiences as practitioners are the foundations of my pedagogical approach. I believe music education must be inclusive of every person, relevant and meaningful to learners, and its practices should be rooted in research.
How do you like to engage students in and outside the classroom?
I practice a student-centered approach that encourages critical thinking and collaboration between students. I believe it is vital that preservice educators gain experience from teaching K-12 students as often as possible, and to engage musically with the community in which they live, so I plan to work with community partners to bring these opportunities to my students when possible.
Given your academic journey, what one piece of advice do you think is most useful to pass along to SOE students?
Take the time and put in the effort to build relationships with your peers and future colleagues. These are the people you can turn to when you have questions, want new ideas, or need help with something.