Meg Wilkie '24 has a passion for running and a big dream: to run a marathon in all 50 states. Since she started racing in 2012, she has completed 28 full marathons in 15 states. This fall, she will tackle the Chicago Marathon, adding Illinois as her 16th state, and she's slated to run in the world-renowned New York City Marathon in November.
Like all elite athletes, Wilkie trains hard, running on average six to seven miles per day, six days a week. A student in InclusiveU, the University's program that offers the college experience to students with intellectual and developmental disabilities, she balances a full schedule, including her classwork, a part-time job at Graham Dining Hall and her training. She also is an active member of the SU Running Club.
Wilkie is proud to be Orange—just like her grandparents who met on campus and were both Syracuse alumni. She loves the opportunity to make new friends and gain independence through InclusiveU.
"I've always wanted to go to college, but I couldn't because I have a disability," Wilkie says. "InclusiveU gave me a chance to go to college. It is amazing to be away from home."
Last year Wilkie lived in Haven Hall, and she's looking forward to returning to Haven Hall in a single this fall.
Wilkie's mom, Carol, agrees. "We thought independent living would be a challenge for her. InclusiveU has been a good thing for Meg. It has helped with her independence and confidence. We're so proud she's part of the program."
"I've always wanted to go to college, but I couldn't because I have a disability. InclusiveU gave me a chance to go to college. It is amazing to be away from home."
Running Builds Friendships On and Off Campus
Residing on campus has made it easier for Wilkie to get involved in campus activities. Last fall, she joined the SU Running Club, where she's quickly become one of the club's most dedicated members. The club runs as a group several days a week, meeting at Skytop track in good weather or at the John A. Lally Athletics Complex track or the Barnes Center at The Arch when training outdoors is not possible.
Club President Alex Metcalf '22, G'23 says, "SU Running Club welcomes runners of all shapes and sizes. More perspectives add value." When asked what Meg brings to the SU Running Club, Metcalf doesn't hesitate. "Energy! At the starting line for a race, she is so excited."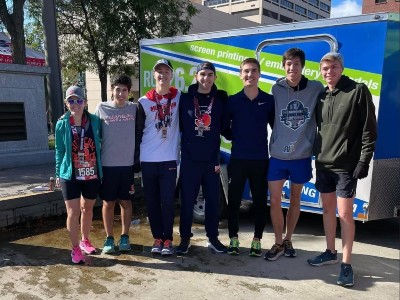 Henry Long '25, vice president of the SU Running Club, agrees. "Just to be around her makes practice more fun."
From her friends at Syracuse to the larger Central New York running community, everyone agrees that Wilkie's enthusiasm for running is infectious.
Wilkie keeps a scrapbook that tracks all her races, her progress toward her 50-state marathon goal and the friendships she's made along the way.
She's inspired several folks she's met through InclusiveU to run and race. Friends and classmates Chloe Payne '22 and Harry Owens '24, who participated in track in middle school and high school, both rekindled an interest in running at Wilkie's encouragement. The three of them ran several races together spring semester, including the Super Couch Potato 5K and the Lake Effect Quarter Marathon last February.
"I can't wait to run more races with Meg and Chloe because the races are so fun and great exercise," says Owens, a broadcast and digital journalism and sport management major.
Wilkie's InclusiveU mentor Morgan McMinn G'22 ran Paige's Butterfly Run 5K in downtown Syracuse in June after Wilkie urged her to give it a try. "Meg's enormous passion for running inspired me to get out there," she says.
Wilkie is glad to have friends to train with and to run with during races. She says, "I'm glad that I've been able to inspire my friends and get them into something that makes me feel so good."
She has been a fixture in the Central New York running community for years. She's been a member of almost of every running group in the area at one time or another and has run most of the local races. Wilkie's former running coach and friend Kevin Collins says, "Meg injects passion into our running groups. She draws everybody in."
Wilkie keeps her training routine fresh by running with different friends—sometimes two in one morning—often followed by breakfast together.
Monika Taylor G'99, G'18 has been running with Wilkie since 2018. "It is exciting to watch her living her dream," Taylor says.
Running Through the Pain
Wilkie is all the more inspiring because her love of running has developed in spite of her battle with chronic nerve pain.
When training for her first half marathon, Wilkie fell and broke her wrist. She continued training and completed that race with a cast. Additional surgeries failed to alleviate the pain. She was diagnosed with complex regional pain syndrome or CPRS.
Eventually doctors implanted a spinal cord stimulator to help reduce Wilkie's pain, though she still suffers pain in her shoulder at night. All the while she kept training and racing whenever possible.
In 2018, she was named one of 20 Medtronic Global Champions, selected from more than 400 applicants with Medtronic devices worldwide, and received an all-expenses-paid trip for her and a friend to run in the Medtronic Twin Cities Marathon in Minneapolis. She brought her friend Penny Noll, a 70-year-old marathoner who inspired Wilkie to set her 50-state marathon goal. Noll has run marathons in 44 states and is still going strong.
For six years, Wilkie has had another reason to keep running—her 10-year-old buddy Hayden. Wilkie met Hayden through I Run 4, a charity that pairs runners with individuals with disabilities who are not able to run. Wilkie receives an extra medal at every race she runs to give Hayden, and they've developed a special relationship over the years.
Taking on New Challenges
This fall, Wilkie will take on new challenges both on and off the racecourse.
She's been preparing all summer for her fall internship at the Bernice M. Wright School, a day care center for children 18 months to 5 years through the Falk College's Department of Human Development and Family Science. Wilkie's eyes light up when she talks about working with children. After graduation, she hopes to work with children in a hospital setting.
"Meg is always upbeat and positive," says Josh Jones, Wilkie's InclusiveU student support assistant who works with her in her internship prep class. "She never wavers and is ready for whatever might be thrown at her. Our InclusiveU students deserves a college experience like any other student."
In addition to two classes and the internship, Wilkie plans to complete two marathons within a month, a challenging feat for even the most experienced runner.
A contingent of the Orange nation will be cheering her on from the sidelines at the New York City Marathon on Nov. 6. It's the least most of her friends feel they can do to keep Wilkie's dauntless spirit going as she chases her next finish line.
By Kevin Ruddy
https://news.syr.edu/blog/2022/08/11/inclusiveu-meg-wilkies-infectious-passion-for-running-inspires-community/